Formal Purchase Order Template
Purchase Orders
There are a number of official documents and templates that are part of the daily operations of a business entity. These are used in various departments and functions to record transactions, for future reference and for any other purpose that the document can be used for.
A purchase order is one such document that is beneficial for many departments in an organization. This document is used in accounting, finance, sales, and procurement and sometime in administration and other functions as well. The purchase order title is commonly abbreviated as the PO and is a commercial document. It is issued by a product or service purchaser to a seller who wants to buy a product or service. It indicates the types of goods to be bought, their quantities, prices and other delivery terms and conditions.
This formal paper is sent to the supplier and it acts like a legal offer to buy his/her products or services. The purchase orders are usually designed and drafted according to a specific format or pattern. If you do not know how to write and use this format, you can easily make use of purchase order template. This template can be downloaded from the internet and can guide you effectively.
In many organizations, the given sample document is given a specific color for ease of recognition. So you can also use the purchase order template and draft it according to your needs and requirements. It is a useful and handy official format that can make things very convenient for you.
Preview & Details of Template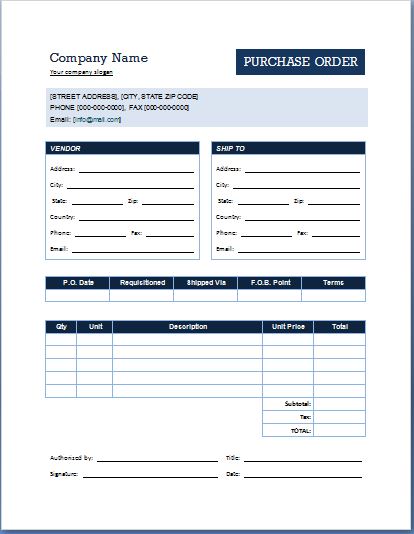 Purchase Order Template -1
File: Word (.doc) 2003+ and iPad
Size 37 Kb | Download
License: ENERGY (Personal Use Only)
Distribution by Kate Elizabeth(CEO)
---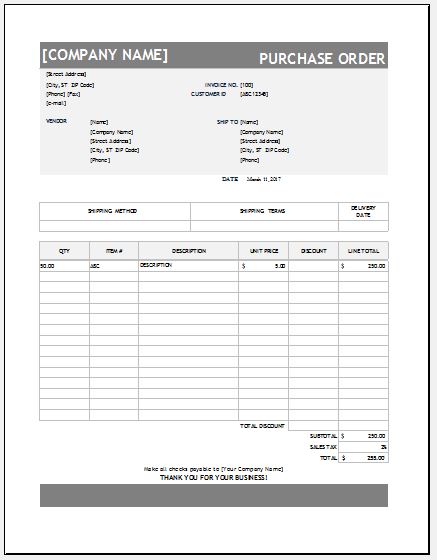 Purchase Order Template -2
File: Excel (.xls) 2003+ and iPad
Size 37 Kb | Download
File: OpenOffice (.ods) Calc [Calc]
Size 11 Kb | Download
License: ENERGY (Personal Use Only)
Distribution by Kate Elizabeth(CEO)