Formal Career Planning Checklist Template
Career Planning Checklist
A career planning checklist can be an asset to those students who are about to finish their college education. It provides great benefits by determining your future goals and helping you decide what you want to achieve in life. Through all its unique features and guidelines, you are given a list of things according to which you set priorities in order to successfully move forward in your career.
About Template
It provides an accurate guideline of tasks that need consideration during your college life such as:
Getting exceptional grades is extremely important for you. Using a career planning excel checklist, you can plan and work on your goals in an organized way. Make this your top priority in your checklist.
Developing communication skills is another attribute which should be at the top of your checklist. Not only does it help you in securing a reputable place at an organization but can also help in your long-term goals.
Time management is an essential attribute at this junction of your career. Include this in your Excel planning checklist and it will do the rest for you automatically.
Enhance your computer skills because the world of today and its operations are entirely web based. To move effectively, you'll need to learn and achieve mastery in computer skills.
Preparing your resume is another perfect feature to add to your career planning checklist. This highlights your achievements and what you want to achieve in your career.
Another essential point is to create goals at each step. Without a goal, you won't be able to achieve what you desire in life.
Preview and Design of Template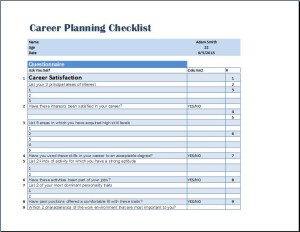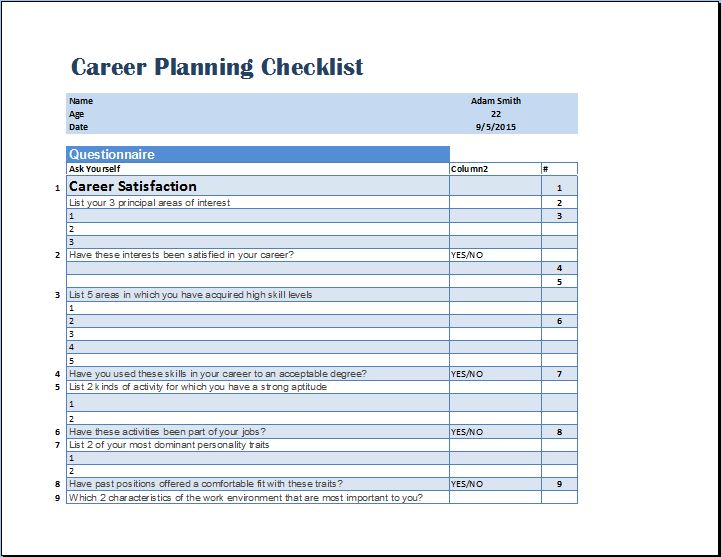 File:Excel (.xls) 2007+ and iPad
Size 29 Kb   |   Download
File: OpenOffice (.ods) Spreadsheet [Calc]
Size 18 Kb   |    Download
License: ENERGY   (Personal Use Only)
(Not for resale and distribution) by Kate Elizabeth(CEO)