Formal Business Inventory List Template
Inventory List Template
There are three different types of business forms. These may include trading of products, manufacturing of goods and deliverance of services. The hardest work and procedures are carried out in the manufacturing business. It requires a lot detailing and attention in all types of processes and functions. There are also many times risks involved in the manufacturing business like the wastage of supplies and raw materials and loss or theft of goods. This causes loss of both effort and money. It also leads to loss of precious and valuable time.
To avoid this risk or to minimize its organizations and employee use various types of inventory lists. These lists consist of many forms and types and are essentially important for successful and smooth business operations. Inventory lists help keep a record and accountability of various items used in a business organization.
About Template
The given lists can follow different patterns and formats. It depends on the type of business and its requirements. For ease of employees and management, you can download the inventory list template and make necessary modifications in it to meet your purpose. This formal template is a very useful document that can save you money and efforts both. You can also save a lot of money if you keep an eye on the inventory of your organization to prevent theft or loss. All you need to do is to download the inventory list template and make the additions on regular basis for a perfect document of your advantage.
Preview and Details of Template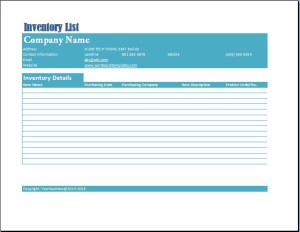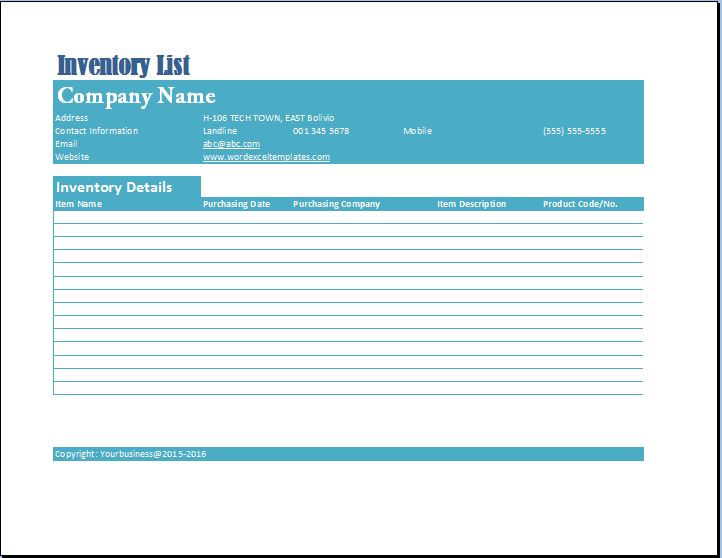 File:Excel (.xls) 2007+ and iPad
Size 22 Kb   |    Download
File: OpenOffice (.ods) Spreadsheet [Calc]
Size 17 Kb   |      Download
License: ENERGY   (Personal Use Only)
(Not for resale and distribution) by Kate Elizabeth(CEO)