Cover Sheets
Applying for a job requires a lot of proceedings and applications. The employers have various requirements to be fulfilled by the applicants and the contenders have a very little window of opportunity to show their qualities to impress the employers. In such situations, a resume is submitted along with a cover letter to express interest in the specific designation and why the applicant is the best choice for the designation. A cover letter provides the employer a clear idea of what an applicant is willing to do if appointed and assesses their commitment to their growth and the growth of the organization.
All communications between the employer and the applicant are done via internet or posts these days. It can also provide insight into the accompanying documents and their details. A fax cover sheet is a cover letter which includes all the details of the applicant as well as the recipient's information so that it is retrieved by the specified person sent by the applicant via fax.
A fax cover sheet produces a hard copy of the cover letter received by the recipient without the hassle of visiting or posting. All needed are the fax number and a fax machine. The commonly used size for a fax cover sheet is 8.5 x 13 inches. Information of the applicant/sender is mentioned at the top and the recipient's details are stated in the body of the document.
Given MS Word Fax Cover Sheet Template provides the basic design and can be utilized for related transactions. Download the template to impress your employers and land your dream job.
Preview and Details of Template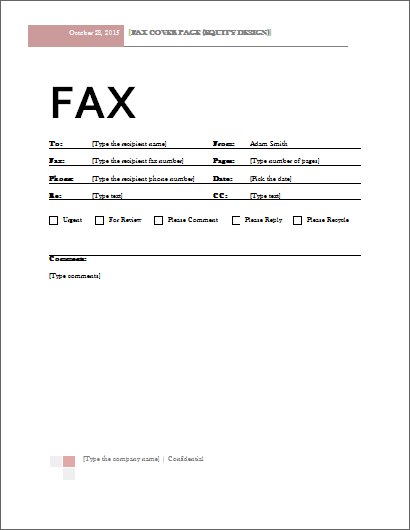 File: Word (.doc) 2007+ and iPad 
Size 96 Kb   |  Download
File: OpenOffice (.odt) Writer [Writer]
Size 19 Kb   |   Download
License:  (Free Use)
(distribution) by Kate Elizabeth(CEO)