Family Travel Planner Template
Family Travel Planner
Everyone love vacations. Getting every work done in an organized way is important in every aspect of life. Same is applied with family travel journey. Once you have a family travel itinerary, you can enjoy your vacations well. The family that properly plans out its travel schedule can have the enjoyment and excitement at its peak. Those who start a trip without family travel planning can end up facing a lot of problems and disturbances. The stress-free and smooth trip begin before the trip. Vacation planning and preparation is thus of utmost importance.
Family Travel Planner- Your Trip Guide
Family travel planner template provides you each and everything you need to keep in consideration before moving for a vacation. With the help of this template that has been designed especially for you, it is sure that you are not going to forget anything during your journey. Keep template with you throughout your vacations to keep you updated about all the matters.
This planner template starts with the basic information about the travelers i.e. start and end date of trip, names of travelers and even their blood groups. It can help you in providing complete details of transportation so that you cannot miss out a single detail of departure and reservation issues.
Packing is another important aspect of any vacation plan. This family travel template has all the minor details of packing stuff. Whether it is your shoes, clothes, medication or even books, this template has all of it. A good travel planner has also emergency contacts list in case of any emergency occurs.
Preview and Details of Template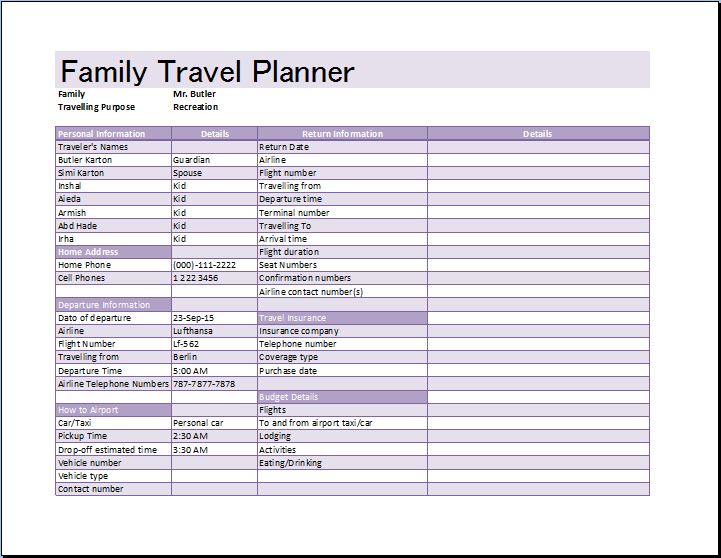 File:Excel (.xls) 2007+ and iPad
Size 23 Kb   |    Download
File: OpenOffice (.ods) Spreadsheet [Calc]
Size 18 Kb   |    Download
License: ENERGY   (Personal Use Only)
(Not for resale and distribution) by Kate Elizabeth(CEO)
---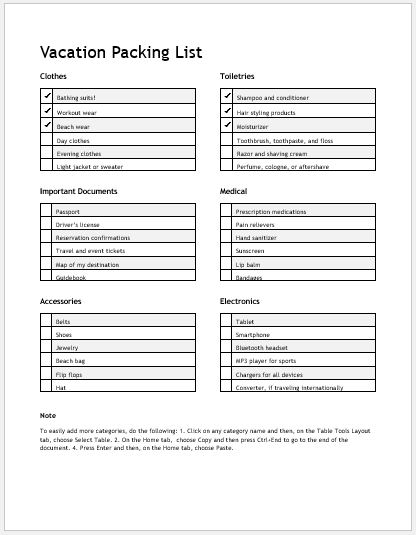 Vacation Packing List
File: Word (.doc) 2007+ and iPad
Size 23 Kb   |    Download