Kt's Family Schedule Grocery List Template
Grocery List Template
The life of most individuals in this world has become very complex and fast. People now have to work hard to earn a good living and manage their daily household expenses. Maintenance of a good standard of living is what most people want these days. But this cannot be done unless you work day and night and earn a decent living.
Dealing with these day to day problems and issues of life can be very troublesome. It can make people very uncomfortable and stressed. But still, everyone requires an energy that can help them fight with the day to day professional hardships and assignments. This constant race for work related projects can actually make the household tasks as a burning fuel for stress and anxiety.
Therefore the experts advise you to start making a grocery list for your shopping sprees. You can use the grocery list template for making this list more effective and comprehensive. All you need is the grocery list template and enter the necessary items on it according to your own requirements and needs. This is a very useful and helpful document that comes in a one-page format. The template can be searched from the internet and downloaded very easily.
The Family Schedule Grocery List Template is sure to reduce the workload of your daily schedule and make things a bit easier for you. It will also reduce the stress and anxiety level of your hard and complex living pattern.
Preview and Details of Template

Grocery List Template
File: Excel (.xls) 2007+ and iPad
Size 103 Kb   |  Download 
---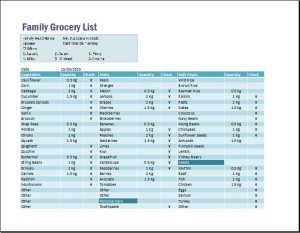 File:Excel (.xls) 2007+ and iPad
Size 35 Kb   |    Download
File: OpenOffice (.ods) Spreadsheet [Calc]
Size 21 Kb   |     Download
License: ENERGY   (Personal Use Only)
(Not for resale and distribution) by Kate Elizabeth(CEO)