A written request or document that allows an employee or any other person to register a claim against an expense that he/she might have made or going to make for the attainment of goals and objectives of the organization or institution.
Need for an expense claim form
In organizations, the employees are required to carry out different kinds of tasks and activities to meet the requirements of fulfilling the goals and objectives of the company. There may be some task that is desk job while others may be of different nature and require a lot of running around and spending money. When this money is spent by the employee or manager, he or she has the right to claim it as an expense made by the employee from the organization. This process is completed by using an expense claim form. For example, if an employee travels out station for a meeting with a client and pays the traveling expense through his own pocket he can claim it from the organization to be paid back to him through an expense claim form.
The Process:
The employee fills in all the details in the expense claim form
Submits it to the finance department of the organization
The department verifies all the details
Reimburses the employee with the payment made.
This is a very detailed form and the employee must write down the true facts and figures in the form to avoid any problems.
Preview and Details of Template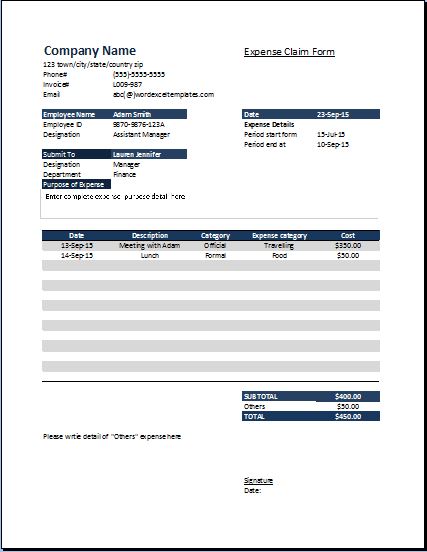 File:Excel (.xls) 2007+ and iPad
Size 31 Kb   |   Download
File: OpenOffice (.ods) Spreadsheet [Calc]
Size 21 Kb   |   Download
License: ENERGY   (Personal Use Only)
(Not for resale and distribution) by Kate Elizabeth(CEO)