Exercise and Fitness Planner
Fitness Planners
Every individual wants to remain fit. We all have heard the proverb saying Health is Wealth. And for having a healthy body one must exercise and workout regularly. In today's busy world and hectic life schedules, people hardly find any time to do any kind of exercise. The busy routines keep them committed to their professional work which in most cases is static. Therefore people working in offices need to have a fitness planner to motivate them to work out and exercise. In fact, this is not only beneficial for those who work in offices but also for those who are studying in colleges and universities, housewives or any other person at any life cycle stage or gender needs to incorporate regular exercise into their busy and static daily routines.
About Template
The fitness planner template is a very useful and handy document that can be used to plan your fitness training program. For every part of the body, various types of exercises and workout plans are available. You must select and choose the one that suits your needs the most. The fitness planner helps maintain a log and record of all the exercises that you adopt and the frequency that should be followed to get positive results.
To keep a healthy routine all individuals must have some form of little workout and exercise in their lives. The Fitness planner template also has a portion to keep a tab on the body weight and other necessary measurements. Therefore it keeps a close watch on the health statistics.
Preview and Details of Template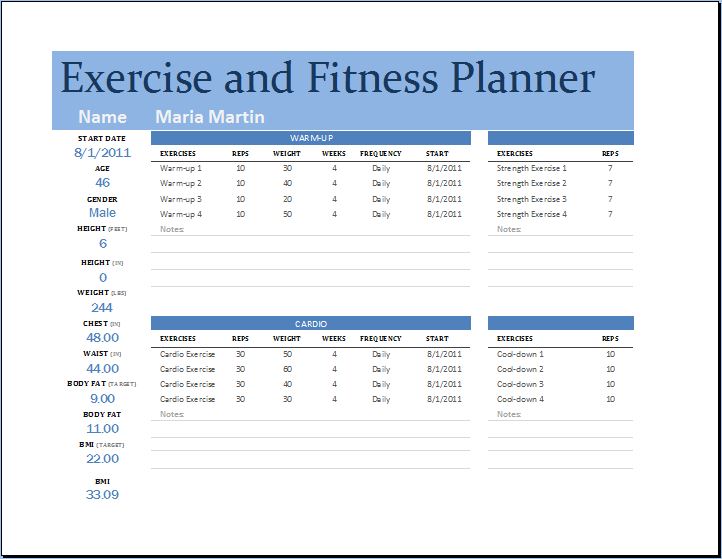 File:Excel (.xls) 2007+ and iPad
Size 38 Kb   |   Download
File: OpenOffice (.ods) Spreadsheet [Calc]
Size 23 Kb   |   Download
License: ENERGY   (Personal Use Only)
(Not for resale and distribution) by Kate Elizabeth(CEO)