Estate Planning Checklist Template
Estate Planning
People who want to secure the future of their loved ones must know that an estate planning is one of the most important things in life for families. Not only does it help in securing the property in the form of monetary value, but also helps a family to move ahead in life easily in case of death of their loved ones.
About Template
An estate planning checklist is a great tool. It helps you plan effectively and in advance for difficulties in life. The estate planning template is easily available on this website and can be used almost instantly once you download it. It has great options through which you can list down your priorities related to estate planning and remain informed.
The estate planning checklist has some basic components:
Will: It is the most important document which states your final wishes and how your family will benefit from your assets after your death. A will is only valid if you sign it personally and in front of witnesses.
Advance care directive: It is the conventional name of a living will. It is created when you are not able to make choices for yourself in terms of medical treatment and other important matters of life.
Health care proxy: It empowers someone close to you on your behalf to take care of your medical needs, especially when you are unable to look after yourself.
Statement of intent: It enables you to state your desire and policy about the guardians who will be empowered to make decisions on your behalf.
Preview and Details of Template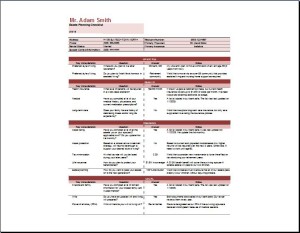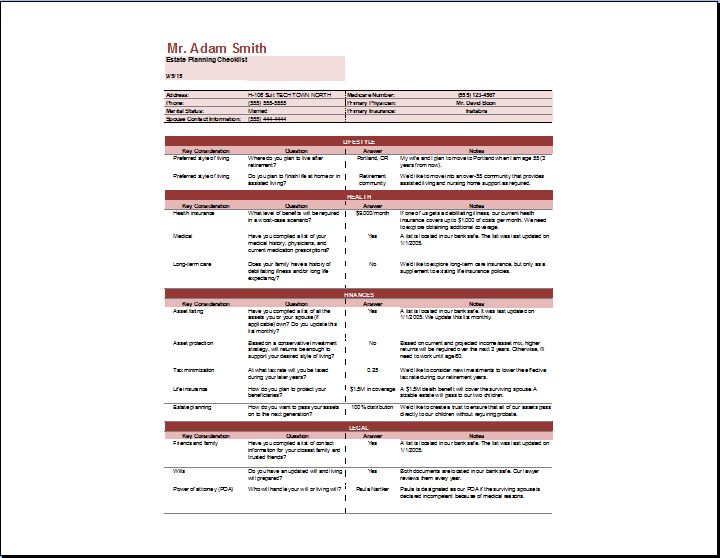 File:Excel (.xls) 2007+ and iPad
Size 42 Kb   |    Download
File: OpenOffice (.ods) Spreadsheet [Calc]
Size 23 Kb   |    Download
License: ENERGY   (Personal Use Only)
(Not for resale and distribution) by Kate Elizabeth(CEO)