Equipment Maintenance Log
Regular maintenance is important for keeping all types of equipment in a good condition. An equipment maintenance log helps in keeping a record for this procedure. This record, in turn, holds significance for various organizations where different types of apparatus, appliances or articles are used. These include factories, science research labs, and workshops among many others.
This log can be created as a Microsoft Excel sheet on your computer. Alternatively, a template can be used which saves time and effort.
The contents of an equipment maintenance log can differ for various organizations. Generally, it includes rows and columns to enter different types of information. This information may include maintenance description, date of last servicing, the date planned for the next maintenance and remarks.
A separate log is usually maintained for each piece of equipment. This helps in keeping a record for every item of machinery or apparatus in use. It is necessary for keeping the entire equipment in a good working condition. In addition, it is also important for complying with safety regulations.
In order to create a maintenance log for a particular piece of equipment, begin with some general information about it. This includes the name of the equipment, its serial number, label and date of purchase. In addition, the manufacturer's details should also be included. For instance, the name of the manufacturer and contact details can be important. The manufacturer may be contacted for services or in case of any issues.
A pre-formatted equipment maintenance log is available on this website. This template offers a general pattern. It can be modified easily. Therefore, organizations can customize it according to their particular needs. There can be a large number of pieces of machinery or apparatus at a place.
Designing a customized log for each and every piece from scratch can consume lots of time. Therefore, it is preferable to use a template instead. The same format and contents can be used for each piece of equipment. On the other hand, it can also be personalized for different types of pieces. Overall, this equipment maintenance log template can prove to be very useful.
Preview and Details of Template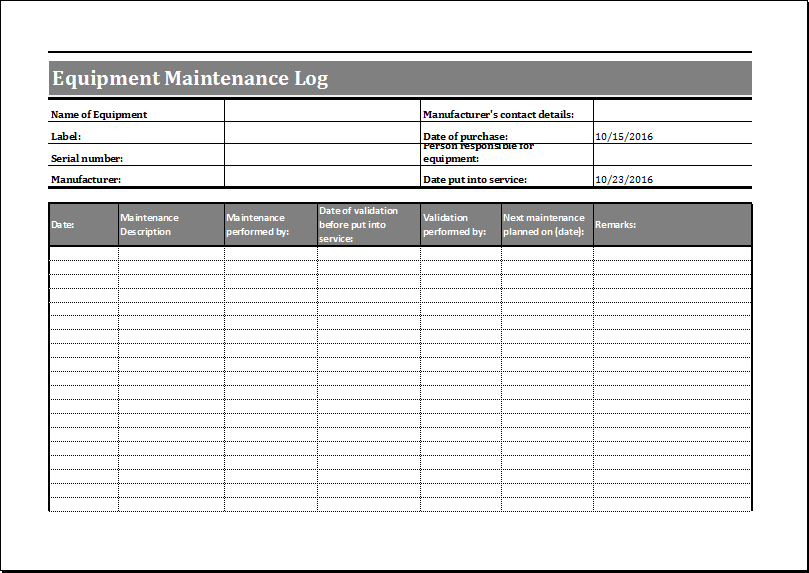 File:Excel (.xls) 2007+ and iPad
Size 36 Kb   |  Download
File: OpenOffice (.ods) Spreadsheet [Calc]
Size 16 Kb   |  Download
License: ENERGY   (Personal Use Only)
(Not for resale and distribution) by Kate Elizabeth(CEO)