Employee Information Form
Importance of Employee Information Form
Employee contract and employment forms are not the only documents to be used in any organization after the employee is hired. There are lots of other documents which are considered very important and are given special priority while recruiting the employees. One of the main documents used by the company for its employees is employee information form. This form is important to be filled by the employee when he is hired. Employee information form is also needed when the employees' appointment with HR is set. There are many key factors in employment form such as pre-employment agreement, interest statement, confidential agreement etc.
Since it is the main responsibility of HR department of any organization to keep the record of each employee working in that organization, the employee information form is given high priority. New employee forms are being used in every type of business however, they may differ from company to company. Compiling all the details of the employee makes it very easy for the HR of the company to keep track of the salaries to be paid each month. The management of the record simplifies many processes taking place in the company.
New employee information is very practical and professional way to note down the number of hours the employee has worked for you and total salary that he should be paid. The details of regular payslips of the employee should also be recorded. The employee information form should be kept in both hard copy and electronic form. There should be a complete backup of these forms.
Key elements of the form:
The main details to be included in the employee information form are:
Name of employee
Date of birth of employee
Home address, phone number, and other contact details
Type of employee
Total salary of the employee that has been mentioned in the agreement
Employee's designation
Policies of company
There should also be a separate section at the end of the information form in which the contact details of the employee in case of any emergency should be given.
The bank account details of the employee
Some other details to be included in the form are:
Starting and ending date of the contract between the employee and the company
The information and details to be covered by the agreement
Starting and finishing time of the overtime overs
Detail of leave granted to employee and the type of leave (annual or personal)
Contribution details
The information form used in one company may vary depending on the department of the employee. Every company has hundreds of employees. Preparing an information form for each employee can be very time taking.
About Template
There are free employee information forms templates that can be downloaded from the internet. A sample template for MS Word & Excel has been given here also. Using these templates saves a lot of time and money of the person. These templates are very easy to use and can be customized according to the needs of the person.
Preview & Details of Templates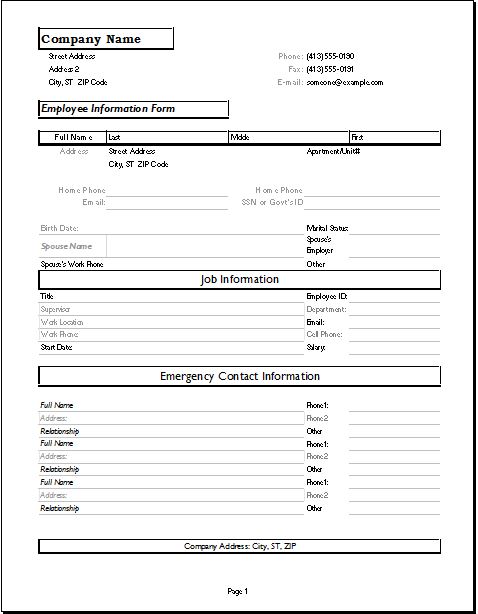 Employee Information Form Template
File: Excel (.xls) 2003+ and iPad
Size 32 Kb   | Download
File: OpenOffice (.ods) Calc [Cal]
Size 21 Kb   | Download
License: ENERGY   (Personal Use Only)
Distribution by Kate Elizabeth(CEO)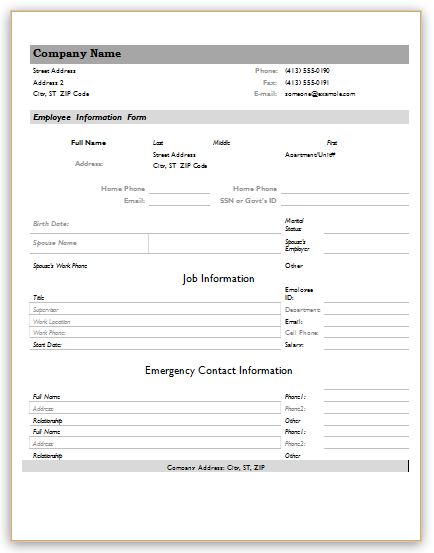 Employee Information Form [MS WORD] Template
File: Word (.doc) 2003+ and iPad
Size 37 Kb   | Download
File: OpenOffice (.odt) Writer [writer]
Size 11 Kb   | Download
License: ENERGY   (Personal Use Only)
Distribution by Kate Elizabeth(CEO)