Employee Annual Leave Record Sheet
ANNUAL LEAVE SPREADSHEET
Annual leave spreadsheet is required in case of taking leave from the office. It is a professional way to write a leave. There are many templates available on the various websites. You can take a template and made it according to you. It is very easy and simple to make it. You just need to know about the use of excel properly to create it. If you know excel completely then to create a spreadsheet in an hour is not a big deal for you. It is good for the organization to prepare annual leave spreadsheet of each employee. It contains name and dates of leaves. It is your choice to select official templates for it or simply make it on excel sheet.
ANNUAL ATTENDANCE RECORD
You need an excel sheet to create a list of all employees with the date. First, you will write the name of the employee and then the start date of the holidays and the end date of the holidays. The benefit of making this sheet is that it will help you to keep a record of all the employees' holiday date. It is mostly prepared by the large organizations whereas a small business can keep record manually. This is a quick and easy way to remember the holidays turn of each employee.
You can also use different colors to highlight the name of employees. The advantages of making computerize record are that there are fewer chances of information loss as compared to manual records. You can also create a backup file so, that you can get all the information back easily.
PREVIEW & DETAILS OF TEMPLATE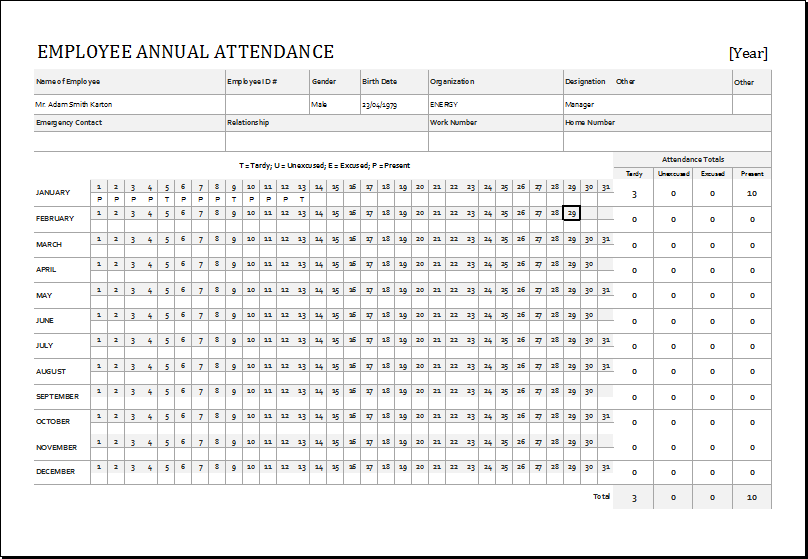 File: Excel (.xls) 2007+ and iPad 
Size 37 Kb   | Download
File: OpenOffice (.ods) Calc [Cal]
Size 19 Kb   | Download
License: ENERGY  (personal use only)
(Not for Resale & Distribution) by Kate Elizabeth(CEO)