Emergency Medical Information Form
Emergency & Medical Information Form
An Emergency medical information form is a form which is submitted by various people to a respective institution so that the institution knows what to do and whom to contact in case of a medical emergency. Often students and employees are supposed to fill out these forms and submit to their organizations.
These forms help the person in charge to know what to do in case of emergency and which medical facility should the individual be taken to since, in case of insurance, a few medical facilities are covered by various insurance companies.
The medical information should first consist of information about the person submitting the form. This information includes a contact number, their social security number, their position in the organization or in case of a student, the department he/she belongs to along with the course being studied.
Next information about emergency contacts should be filled out such as their name, their personal and home phone numbers and their home or work addresses. There should be up to 4 emergency contacts to be on the safe side. Moving along, information about the insurance company and the policy should be filled out.
This should include the name and details of the insurance company, the policy bought along with contact details about the person handling the insurance for the person submitting the form. This would help in reaching out quickly to the person in charge and take quick and rapid actions since at the time of an emergency, every second count!
Preview and Details of Template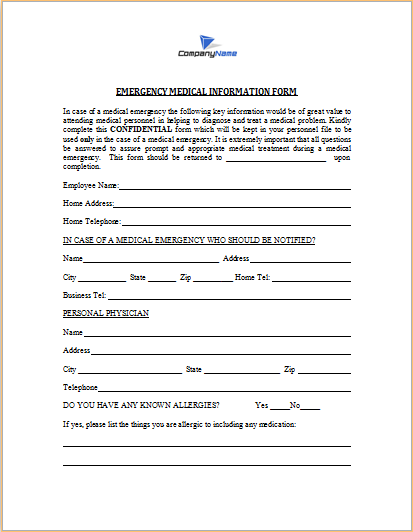 File: Word (.doc) 2007+ and iPad 
Size 30 Kb   |  Download
License: ( General Use)
(distribution) by Kate Elizabeth(CEO)