Duplicate Receipt Template
A duplicate receipt is as given by the name, a duplicate or a copy of the original receipt. Usually, this is kept by the retail shop or service provider and the original receipt is given to the customer.
The paper used in the duplicate receipt is a special kind that allows the data printed on the original receipt to be imprinted on the duplicate one. The color of the paper is different from the original receipt too. Usually, the field is printed on both the receipts in the same format and layout. When the data is entered or printed on the original get automatically copied on the duplicate. Since it is a duplicate so the fields of both receipts are the same.
The duplicate receipt lessens the hassle of printing a receipt twice for the sake of record keeping. It also helps in tracking payments made against orders to be delivered. Duplicate receipts can be more than one and the number of receipts is identified by different colored paper. The information displayed depends on the genre of the business receipt used as the original receipt. You can either get a booklet of receipts printed to be filled by hand or printed by the printer. The duplicate receipts are labeled as to whose copy they are as well.
The format or layout of the duplicate receipt depends on the format and layout of the original, so the duplicate receipt template gives you the fields and information that is to be displayed on the original receipt and the duplicate as well.
Preview and Details of Template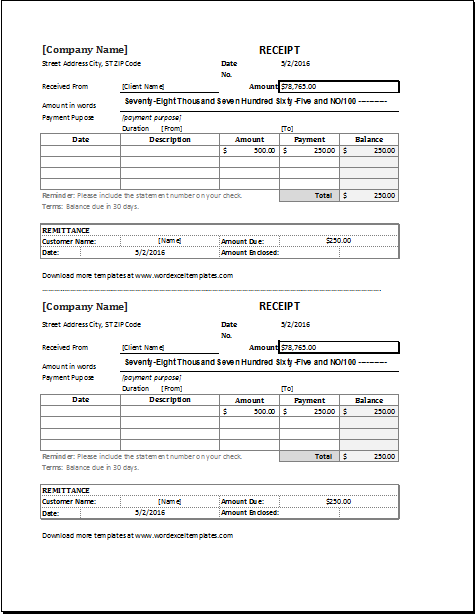 File:Excel (.xls) 2007+ and iPad
Size 41 Kb   |  Download
File: OpenOffice (.ods) Spreadsheet [Calc]
Size 23 Kb   |  Download
License: ENERGY   (Personal Use Only)
(Not for resale and distribution) by Kate Elizabeth(CEO)