DENTIST SERVICES & RECEIPTS
A dentist is a doctor that looks after your oral health mainly your teeth and gums. The health of your teeth and gums is equally important as the health of any other part of your body. But in addition to that, nowadays dentists are also responsible for making your smile look beautiful as well.
If you are planning to run a dental clinic or practice as a dentist then getting a dentist receipt is very important. To run a professional business has its requirements and presenting you patients with a detailed receipt is one of them. It not only gives a professional and organized impression to your patients but also helps you to maintain your own records.
ABOUT TEMPLATE
You can maintain and present the receipt in printed format or software copy, but in both cases, you would require a dentist receipt template. Selecting a template depends upon the kind of services you provide at your clinic. The information that is most basic to the template is as follows;
The name of the clinic
The address of the clinic
The logo of the clinic
The name of the patient
The age and gender of the patient
The contact information of the patient
The registration number in case of a regular patient
The date of the visit
The number of the visit
The reason for the visit
The procedure is done on the patient
The attending dentist
Medication prescribed
Follow up date
Charges per process
Total amount payable
The method of payment
PREVIEW & DETAILS OF TEMPLATE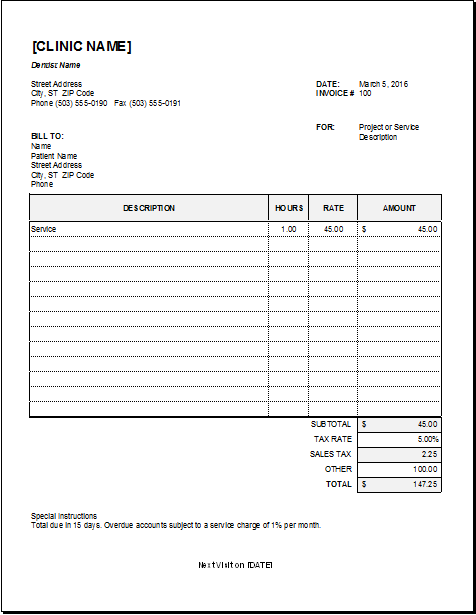 File: Excel (.xls) 2007+ and iPad 
Size 33 Kb   | Download
File: OpenOffice (.ods) Calc [Cal]
Size 16 Kb   | Download
License: ENERGY  (General Use)
(Distribution) by Kate Elizabeth(CEO)