DELIVERY RECEIPT TEMPLATE
Delivery of products is done when either the buyer or seller is not in the same place, or the quantity and weight of goods need separate delivery service to be provided. Nowadays online sale is very common and using online ordering you can get products from around the world delivered at your doorstep. In such cases, a detailed delivery receipt is very important. A delivery receipt is an instrument which is used to validate the receiving end of the sales process. A delivery receipt is signed by the person who receives the goods ensuring that the goods were delivered to the right address in the given time. Three copies of this receipt are made; one for the person receiving the goods, second for the person sending the goods and third for the person delivering the goods.
All parties involved in this process keep their own respective records in case anyone claims a refund or faulty product etc. By using delivery receipt each person can clarify themselves. The receipt is a comprehensive overview of who is sending the delivery, the date and time of sending and receiving of the delivery, the description of the goods, who is reciting the delivery, the name of the person or company delivering the goods etc.
The shipment or delivery methods vary depending on the type and urgency of goods being delivered. There are different kinds of delivery receipt formats depending on the size and nature of your company but the generalized template should carry the above-mentioned fields in it.
Preview and Details of Template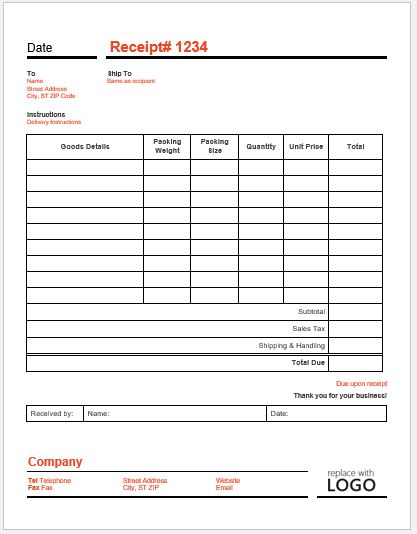 File: Word (.doc) 2007+ and iPad 
Size 48 Kb   | Download
---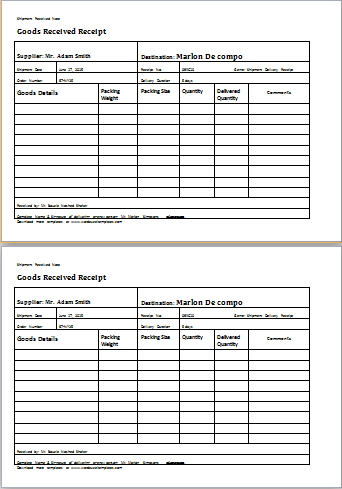 File: Word (.doc) 2007+ and iPad 
Size 76 Kb   | Download
File: OpenOffice (.odt) Writer [Writer]
Size 16 Kb   |  Download
License: ENERGY  (personal use only)
(Not for Resale & Distribution) by Kate Elizabeth(CEO)