What is death notice?
A death notice is an official document that is used to announce the death of a person. This notice is usually published in a newspaper or sent to a radio channel or television for the announcement. This notice is a paid advertisement which is supposed to inform all the friends and family about the death.
What is the purpose of death notice?
The notice is intended to inform those people who could not get the news of death from the family sources. It also serves as a proof of a person's death.
What does a death notice include?
Death notice gives the details about the death announcement, personal details of the deceased person such as education details, marriage, profession, funeral services as memorial donations etc.
Key features of the template:
It also provides full support for high-quality images, fonts of different styles and a lot more.
It can be printed easily from any printer. The template allows the user to customise to make it usable for him.
The template for death notice can easily be obtained from the internet.
The death notice template is very easy to use. It can be used by anyone.
The design and interface of this template are very simple that makes it highly interactive.
See also: Sympathy letter to coworker
How to create death notice?
This notice should be started with the title. The title should be given at the top of the document.
Mention the date on which the person died.
Add the picture of the person whose death is being announced through this notice. Adding picture is optional.
Add the name of the person, date of birth, complete address, time of death, place of death, and cause of death in the notice. You can also add some more details depending on your own needs.
After giving all the details, add a little description at the end of the notice. This description is optional. If you don't want to add the description or few wordings about the death, you can omit it.
End the notice with your signatures.
See also: Condolence letters and emails
Sample Death Notice
Elizabeth Winfrey, aged 73, died after fighting a long battle with cancer this Saturday dated 22-01-18 in Kent England. She was born on 1st April [XXXX] in Bristol England to Mr. & Mrs. Romy. In [dd/mm/yyyy] she got married to Lee. She raised 2 sons and one daughter. Elizabeth worked as a nurse in a local hospital in London. She received various awards for her service to humanity.
Funeral services will be held on [date] and the venue of funeral will be St. XYZ Church. Memorial donations can be made to the [XXXX] Trust in the name of Elizabeth. Funeral services will be hosted by the close family and friends.
Preview and Details of Template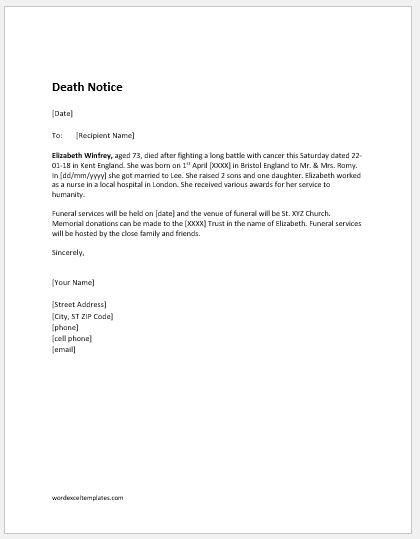 Death Notice Template
File: Word (.doc) 2007+ and iPad 
Size 532 Kb   | Download