Daily Task Planner Template
Task Planner
Plan every minute of your day so that the time is not wasted at all, because if you really know time is more valuable than money. We keep money and gold dear to our heart but let the time fly away but the truth is opposite. Money comes and goes but time once was gone never comes back and there is nothing but heartbreak. In this condition, it is necessary that you make sure to use every minute of your day wisely so that your treasured entity doesn't go to waste. And for this planning out is a very important factor. Bring ease to your life with planning. Plan every minute of your routine to achieve your goals using Daily Task Planner Template.
It is not an easy task to go through the day haphazardly; many times you must have noticed that the most important work is left behind it is only because of the reason that you have lost the track of time. We have taken an initiative and going to help you with the planning of your work. For this, we have designed this everyday routine planner template that is going to take your mind off the unnecessary things that you do in a day and make you focus on the things with real priority. This is the only way to ensure that you get the most of your time sorted out in the proper way.
The daily planner will help you keep out the clutter from your daily routine while making you focus on the goals that you are supposed to achieve in life. So don't wait up and get your own everyday task planner and make your way to the heights of success.
Preview and Details of Template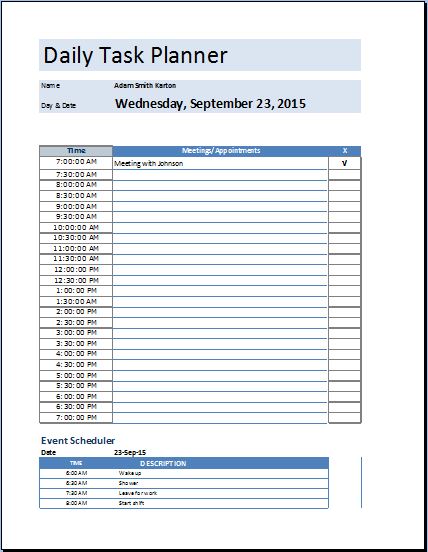 File: Excel (.xls) 2007+ and iPad 
Size 99 Kb   |  Download
File: OpenOffice (.ods) Spreadsheet [Calc]
Size 66 Kb   |  Download
License: ENERGY   (Personal Use Only)
(Not for resale and distribution) by Kate Elizabeth(CEO)