Tasks to do
If you are a housewife or the person on whom the responsibility of any nature lies upon then you must ensure that all the task are managed, organized and completed on time. People around you will expect this from your side and you will have to meet this. Use of a list will not only help you to organize your daily task but will also help you to gain a respectful position among the people around you. The use of this template is not confined to housewives but can be used by any individual related to any particular job assigned. Our daily chores to-do-list template can be a great assistance to help you in your routine activities.
Are you prepared to get sorted out and clean house? The daily chores to-do-list template can promise you for a home's closest companion due to its good management and sort out techniques! Accomplish the vital things first with adequately using daily chore to do list for morning and night house cleaning schedules. Tuck the finished agenda on the page to track schedules utilizing dry-writing markers. At day's end, wipe check marks clean to reuse the template next day.
An acceptable family errand list template is imperative to keep the family unit running easily and to continue everything clean. Begin with a major list and after that separate it into individual records for every part of the crew. Thus, all the tasks are partitioned equitably and nobody has an uncalled for a measure of work to do to keep the home fit as a fiddle.
Preview and Details of Templates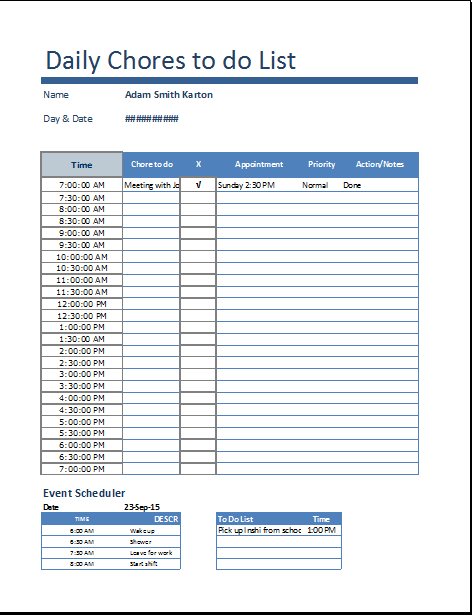 File: Excel (.xls) 2007+ and iPad 
Size 37 Kb   |  Download
File: OpenOffice (.ods) Spreadsheet [Calc]
Size 15 Kb   |  Download
License:  (Free Use)
(distribution) by Kate Elizabeth(CEO)
---
To Do List with Progress Tracker
Enter every project detail along with priority, status, start and End date.
File: Excel (.xls) 2007+ and iPad
Size 20 Kb | Download
License:  (Personal Use)
---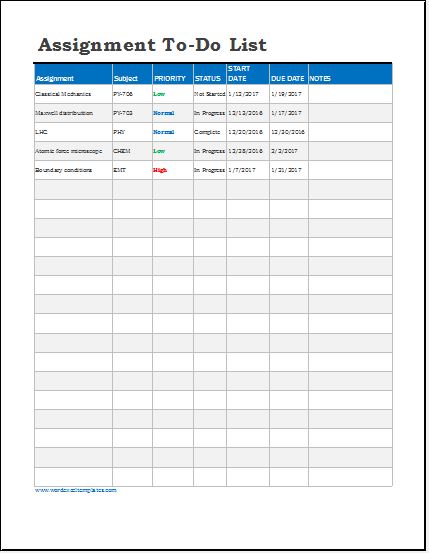 Assignment To Do List
A comprehensive place to keep a record of all the assignments. The template is useful for both academic and business purpose.
File: Excel (.xls) 2007+ and iPad 
Size 37 Kb   |   Download
License:  (Personal Use)
---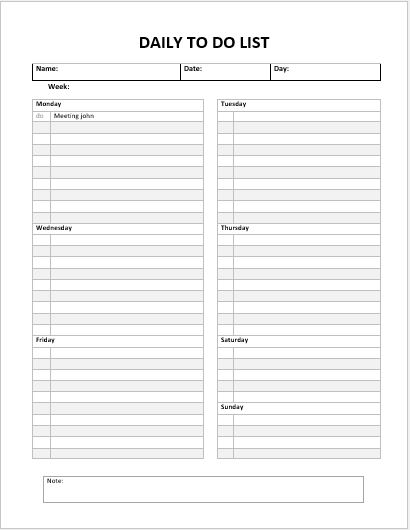 Daily To Do List
Daily to-do list template is useful in keeping a record of all the activities that one has to perform in a day.
File: Word (.doc) 2007+ and iPad
Size 37 Kb | Download
License:  (Personal Use)