Creative Professional Cooking Recipe Card
Recipe Card
The recipe card template is a very effective and useful document that can make your life very easy and convenient. Cooking is one of the most important activities of our lives. No one can survive without food. Over several thousand years humans have developed a certain way of making and cooking various food items. These methods are known as recipes. Every country and every nationality have their own cuisines and delicacies that they like to eat the most.
Religiously people also differ in their methods of cooking. Recipes are also sometimes a specialty of certain families. This means that over generations people are getting the same recipe and learning it to bring about the same great taste in their cooking. Those of us who cook on regular basis know that it is very important to follow a proportional amount of ingredients to bring about the good taste in the food. But when we cook many dishes every day, we often forget or mix up things and their quantities.
Recipe card template helps us make special ingredient planning for a particular dish. It can contain all the information of ingredients and methods that should be followed to come up with a great dish. The given template is also very useful to note down recipes that we have seen from a cooking show or read a magazine or book. It helps maintain a record of the cooking information we gather and helps us reproduce it whenever we need it. The recipe card template allows the drafting of professional cooking planning at a time.
---
Preview and Details of Template
File: Excel (.xls) 2007+ and iPad 
Size 217 Kb   |    Download
File: OpenOffice (.ods) Spreadsheet [Calc]
Size 216 Kb   |     Download
License: ENERGY   (Free Use)
(distribution) by Kate Elizabeth(CEO)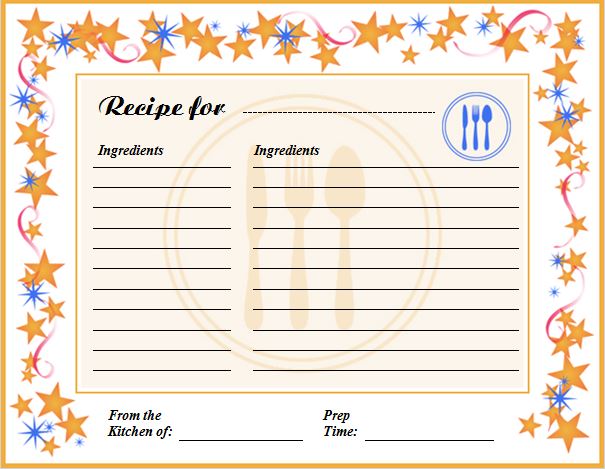 ---
Preview and Details of Template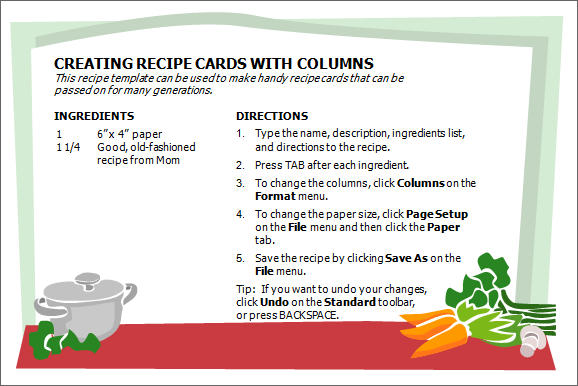 File: Excel (.xls) 2007+ and iPad 
Size 86 Kb   |    Download
File: OpenOffice (.ods) Spreadsheet [Calc]
Size 25 Kb   |    Download
License: ENERGY   (Free Use)
(distribution) by Kate Elizabeth(CEO)