Creative Format Baby Growth Chart with BMI
Baby Growth Chart
The birth of a baby is always the most joyful and celebrated event in the life of families. The entire family plans for the baby's future in terms of education, physical attributes, health and many other aspects that need special care. With the passage of time, it becomes apparent that people discuss the baby's characteristics and how he/she is not tall or healthy enough for their age. While other members of the family may find this a big issue, parents specifically do not need to worry as it is quite normal for a child to take his time while growing.
A baby growth chart is one of the today's most impressive tools that allows parents to know that their child is growing healthy and without any issues. It provides useful data about children which families can also share with doctors to discuss crucial information regarding children health.
What exactly is a baby growth chart?
These are tools used by doctors to analyze a child's development over a specific period of time. Growth charts have been constructed based on an extensive research by the world health organization on a large number of children who are living in different conditions around the world.
A growth chart is used to evaluate height, weight and head perimeters of children while they move through different phases of life. It is a wonderful tool for families through which they can analyze the rate of growth and see whether their child is following a normal pattern or not.
Preview and Details of Template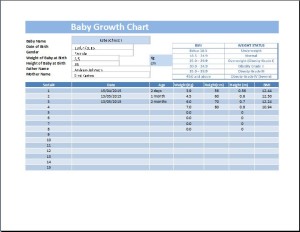 File:Excel(.xls) 2007+ and iPad
Size 154 Kb   |   Download
File: OpenOffice (.ods) Spreadsheet [Calc]
Size 96 Kb   |    Download
License: ENERGY   (Personal Use Only)
(Not for resale and distribution) by Kate Elizabeth(CEO)