Creative Formal Design Timetable Template
Posted by Kate | On

8 April,2015

| In Management
Timetable Template
We have all heard of the famous proverb called time is money. We should all understand the importance of it and manage it effectively so that we do not waste even the tiniest part. If time is once lost it cannot be reversed or brought back. Therefore we need to bring about efficiency and effectiveness in the utilization of our precious moments.
These days life has become very busy and committed. We hardly get this much time to sit and think. So we need to manage our routine so that we can use it for fruitful results. Using a timetable always help you improve your schedule management and other activities. Some things and activities can only be managed if they are framed against a specially formed schedule.
For the creation of your own special time frame, you need to develop a formal chart. Using this given template you can make your own schedule management chart. All you need to do is add the activities of a particular importance along with their times and due dates on the template. The template can also be created for different activity periods, like monthly, daily, weekly or annually. Sometimes the timetable can even be made for a few hours like a day trip or special activity.
This is a very simple and handy document and is used by any individual without any hassle. You do not need to be expert to develop a time table. All you need is to utilize this template and modify it according to your own requirements.
Preview and Details of Template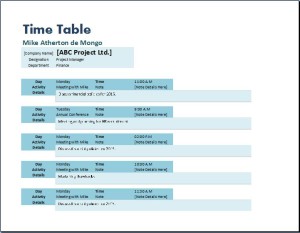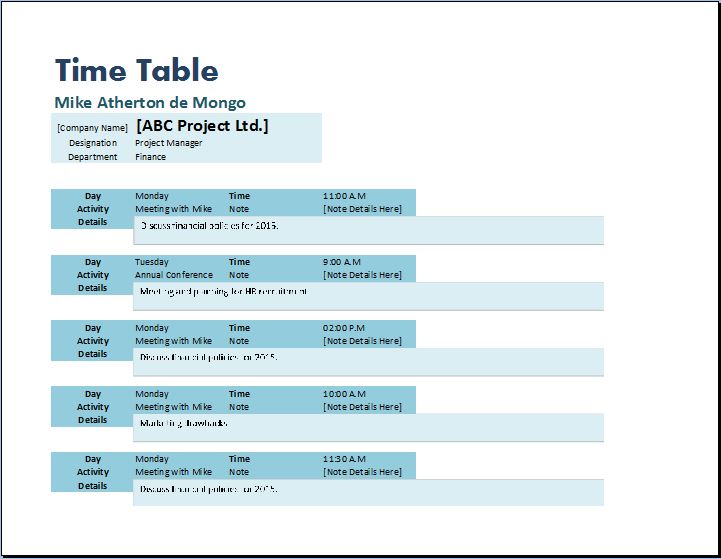 File:Excel (.xls) 2007+ and iPad
Size 32 Kb   |     Download
File: OpenOffice (.ods) Spreadsheet [Calc]
Size 22 Kb   |    Download
License: ENERGY   (Personal Use Only)
(Not for resale and distribution) by Kate Elizabeth(CEO)
About Author
Kate
Kate Elizabeth is a professional writer. Writing and producing useful contents that are helpful for the people in doing different tasks is her hobby.