Court Claim Form
If a person has a claim to present himself in the court of law in front of an assigned judge, then he must do so by filling in this form. The court claim form is a document or piece of text that is used by the requesting party to present their claim in the court of law.
Need for a Court Claim Form:
Any person who wants to start a case in the legal courts of a country or has a claim against someone and wants to establish that claim through the order of the court must fill in the court claim form and submit it to the court of the related jurisdiction. Every country has their own rules and regulations and a set of standard laws that are applicable to all residents of that country.
Hence the establishment of the court claim and its required process and procedures will also be different. However, in most countries, a court claim form is necessary to start legal proceedings in a case registered by a plaintiff.
The requirement is that the court claim form must be filled in with accurate and true information without any falsification or lies. If found fraudulent the form and case will be disqualified and legal action might be taken against the complainant.
Basic contents of the sample court claim form include the name of the claimant party, defendants information and data, details of the court claim and its charges and the lawyer details.
Preview and Details of Template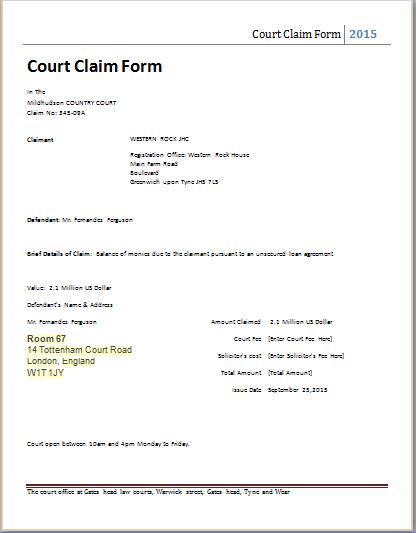 File:Word (.doc) 2007+ and iPad
Size 68 Kb   |   Download
File: OpenOffice (.odt) Writer [Writer]
Size 66 Kb   |   Download
License: ENERGY   (Personal Use Only)
(Not for resale and distribution) by Kate Elizabeth(CEO)