Control Diabetes using Glucose Levels Monitoring Chart
Glucose Levels Chart
People who are suffering from diabetes know very well the importance of recording and keeping track of their blood glucose levels. Many people may find this phase repetitive and tedious at times, but it is extremely important for you to maintain an account to monitor blood sugar levels for a better health condition.
A glucose levels chart can help you in assembling and organizing all your crucial data regarding diabetes in a most commendable way. It is a simple system which keeps track of your blood sugar levels on a regular basis to effectively help you plan your health needs. The Glucose Levels Chart is a great tool for diabetic patients which can be easily downloaded from here and made ready for use within seconds. It provides a useful mechanism to keep account of the glucose levels all day long.
About Template
One of the important features of the chart is to allow users enter in standard sugar levels, both high and low in order to make them stay within their safe range. Another feature is entering notes about your diet and exercise plan, next to every entry given in the chart. Patients can also keep account of their hemoglobin levels which usually require a personal visit to a doctor.
Using a glucose levels chart also helps you enter your blood test results to the software and see them in the form a visual graph. All the data which you organize in the chart can come extremely handy during your visit to the doctor.
Preview and Details of Template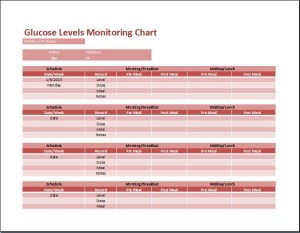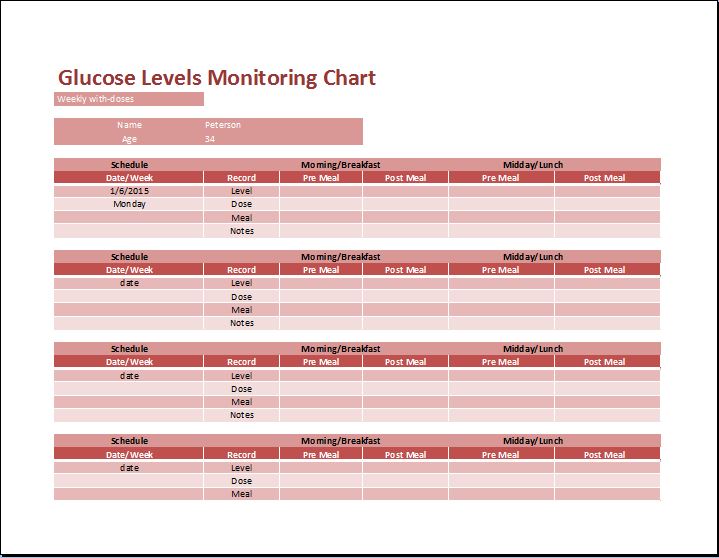 File:Excel (.xls) 2007+ and iPad
Size 63 Kb   |    Download
File: OpenOffice (.ods) Spreadsheet [Calc]
Size 17 Kb   |     Download
License: ENERGY   (Personal Use Only)
(Not for resale and distribution) by Kate Elizabeth(CEO)