Contractor Services & Receipts
A contractor is a person or a company that helps you in your construction or renovation work. If you are a contractor or run a contracting company then you will be requiring a contractor receipt template.
A contractor receipt is a detail description of the materials used, purchased, labor handling and their respective charges.  The contract is not just for construction and renovation but any job relating to tasks involved in the above. It can be plumbing and electric work or wood work etc. the template is not just important for the record of the contractor but is more important for the person hiring him or his company.
If you are getting construction work done and hiring more than one contractor then these receipts can help you budget and plan your financials as well. The contractors can vary from painting, plumbing to wood works and floor works. The information that is displayed on the receipt is elaborate and detailed so no confusion is created about the work done.
The basic information is the name of the company, the name of the contractor, his contact information, name and contact information of the client, the description of the task assigned, the material used, the price of each material, the quantity of the materials used, the total amount of the material, the labor used , rate of labor per hour, the hours used by labor, the total amount of labor charges, the amount of service tax applicable, grand total and mode of payment.
Following is given a sample of contractor invoice. Hope this will help you in the business.
Preview & Details of Template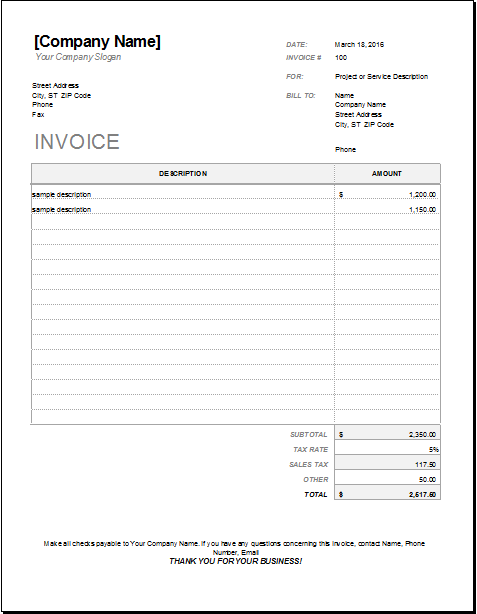 File: Excel (.xls) 2007+ and iPad 
Size 27 Kb   | Download
File: OpenOffice (.ods) Calc [Cal]
Size 16 Kb   |  Download
License: ENERGY  (Personal Use)
(Distribution) by Kate Elizabeth(CEO)