Consumer or Customer Complaint Form
A consumer is a person or a group of persons who purchases any product or service and uses it to fulfill personal needs and wants. He does not utilize the bought items for manufacturing or production of further goods and services. The consumer is involved in evaluation, acquisition, and utilization of goods and services for his personal use only. Every consumer has a set of rights that he can exercise whenever the need arises. Registration of complaints and grievances against the products and services they use is one such consumer right. Every consumer has the power to present the seller or manufacturer with a complaint about the product and service.
Complaint Form
The consumer complaint form is a written document that is used to convey the complaint of the consumer to the desired manufacturer or seller. This complaint form is mostly drafted and printed by the companies themselves and provided to the consumers. If they have any grievances against the company they can promptly use the form and send it to the designated authority.
The contents of the sample consumer complaint form are simple and include the following:
Name of the consumer
Contact details
Problematic product or service details
Complaint issues to be mentioned in clear and detail text
The complaint against the product or service may be related to various aspects like quality, durability, functional problem or pricing issues. Irrespective of the what the problem is, the consumer should feel free and fill in the consumer complaint form and send it to the company.
Preview and Details of Template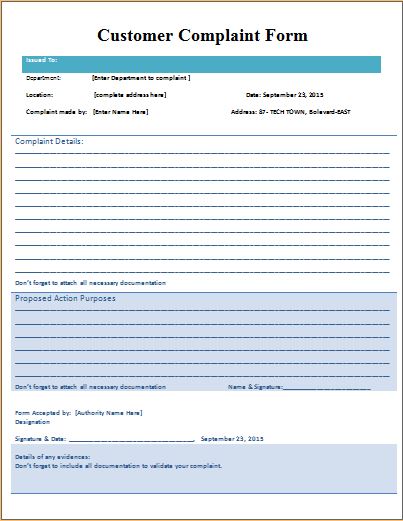 File:Word (.doc) 2007+ and iPad
Size 85 Kb   |   Download
File: OpenOffice (.odt) Writer [Writer]
Size 17 Kb   |    Download
License: ENERGY   (Personal Use Only)
(Not for resale and distribution) by Kate Elizabeth(CEO)