Consultant Service Invoice
Consulting businesses are running very successfully nowadays and to render such type of work smoothly, consulting invoice is certainly vital. Consulting business does not merely meant a simple verbal consultation; the function has a wider prospect which is a lot more than just consultation to clients or customers. The consultation processes integrates several requirements like maintaining fee rates and keeping track of payment. These functions can be simplified via creating an authentic yet simple consulting invoice. A proper consulting invoice reflects the right flow of transactions as it is filled with the correct data and right amounts.
Consulting invoice is a simple document used by individuals and organizations, providing consulting services to their customer's. These are drafted on the basic formats of commercial invoices, exhibiting the name and contact of consulting service provider, consultant and the client. The invoice describe the type of consulting service with the charges applied and total payable amount. It also mention the date on which the service is provided with an authorized signature or stamp. No matter in what category the consultation is being taken the fundamental outline of the consulting invoice usually remains the same. However, every sort of organization use the relevant vocabulary in the invoice. Now whether it is a medical consultation or a legal advice, you can use the basic format to generate the consulting invoice or check on-line to view the available consulting templates.
Preview and Details of Template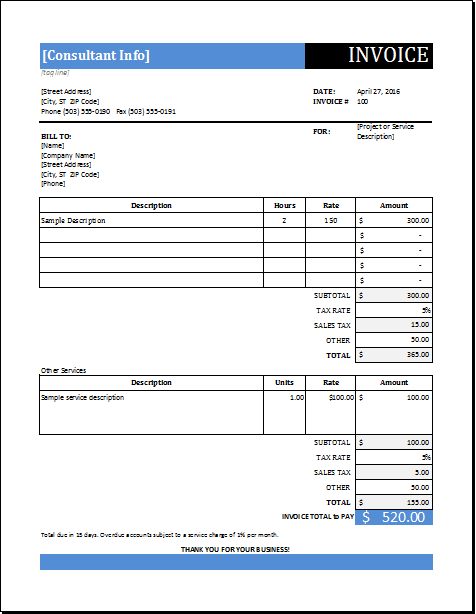 File:Excel (.xls) 2007+ and iPad
Size 31 Kb   |  Download
File: OpenOffice (.ods) Spreadsheet [Calc]
Size 16 Kb   |  Download
License: ENERGY   (Personal Use Only)
(Not for resale and distribution) by Kate Elizabeth(CEO)