Comprehensive Money Spending Tracker
Money Spending Tracker
The money spending tracker is specially designed to help you determine how much money you have spent and how much you need to save over a specific period of time. It helps you get prepared in advance for bearing unexpected expenses during your routine activities. Using the money spending tracker can limit your need to utilize credit cards in case of emergency. Whenever you feel that your budget is slipping away, you can consult with the money spending tracker to identify your expenses and the amount you need to save.
The Excel money spending tracker template is extremely helpful to those who have a hard time gauging their expenses and saving their hard earned cash for emergency needs. Not only does the template provide details on your expenses, but also enables you to chalk out a plan for curbing unnecessary expenses in order to save a desirable amount for future needs.
About Template
It is an easy-to-use simple template that provides a great peace of mind to individuals who are victims of emergency expenses in their daily lives due to lack of information on their daily requirements. The money spending tracker by Excel also provides visual aids in the form of graphs through which you can compare different aspects regarding your savings and expenses.
It is a highly reliable tool offered by Microsoft which helps you identify the places where you could limit your expenses and suggests a particular amount which you can save by limiting unnecessary expenses, thus stabilizing your overall budget.
Preview and Details of Template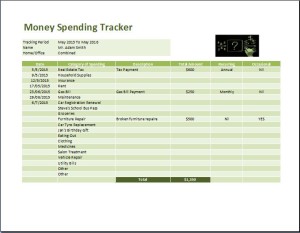 File:Excel (.xls) 2007+ and iPad
Size 49 Kb   |    Download
File: OpenOffice (.ods) Spreadsheet [Calc]
Size 36 Kb   |    Download
License: ENERGY   (Personal Use Only)
(Not for resale and distribution) by Kate Elizabeth(CEO)