Comprehensive Home Inventory Checklist
It is very important for us to have a proper checklist of all the valuable items in the house, in the case of any sudden catastrophe or natural disaster that may hit our homes. Many people try to write down about whatever they possess in homes, but it is simply not enough especially if you want to stand on your feet just like before.
A home inventory checklist can be an excellent tool during your times of trouble. Natural disasters in the form fire and storms can leave your homes in a complete destruction. Theft is another major issue we deal with which robs us of our valuable items in the house. Simply being insured would certainly not help you and it is equally important to have an accurate list of your belongings to convince the insurance company for replacing the necessary items wherever needed. You should also make video footage of all your belongings, house areas and documents so that you know what you have lost during the catastrophe.
The Excel home inventory checklist is a great way to speed up your insurance processes which not only helps you in recovering the loss faster but will also get you back on your feet in just no time. A home inventory checklist should include:
Items kept in your living room
Appliances, clothing, personal belongings
Work documents and other important data
Kitchen items
Electronics, jewelry, valuable equipment
Items stored in attics and garage
And other important stuff around the house
Preview and Details of Template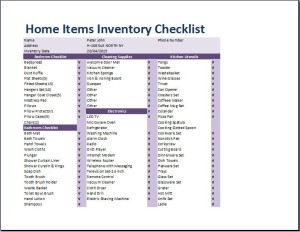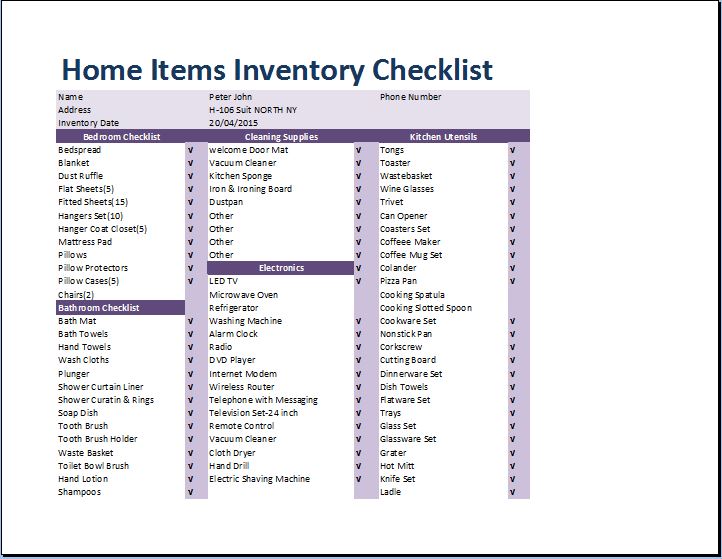 File:Excel (.xls) 2007+ and iPad
Size 28 Kb   |   Download
File: OpenOffice (.ods) Spreadsheet [Calc]
Size 22 Kb   |    Download
License: ENERGY   (Personal Use Only)
(Not for resale and distribution) by Kate Elizabeth(CEO)