Complaint Letter about Overbooked Flight
Overbooked Flight Complaint Letter
You can write a complaint letter to an airline for an overbooked flight and request them about compensation from them. The letter is written by the customer to an airline. This type of complaint letter should include all the relevant information about the flight like the flight timings, flight number, flight destination city as well as the departure date of the flight. You can also ask for some compensation because of this annoying experience of booking with the airline.
You can explain your experience with the airline for overbooking in your complaint letter about the overbooked flight.
Contents of Complaint Letter about Overbooked Flight
The contents which should be included in a complaint letter about overbooked flight are
The name of the passenger
The name of the airline
All the relevant information about the flight such as flight date, number, destination and other details about the overbooked flight
Ask about compensation as it is your right because you have gone through a bad experience
You can also use attorney prepared forms to protect your rights
Also, add your booking reference and your contact details in the letter which should include your address and your telephone number
Mention the days within which you want your problem to be solved
Once you have written the complaint letter about an overbooked flight, sign the letter and also write your name.
Don't forget to make a copy of this complaint letter.
PREVIEW & DETAILS OF TEMPLATE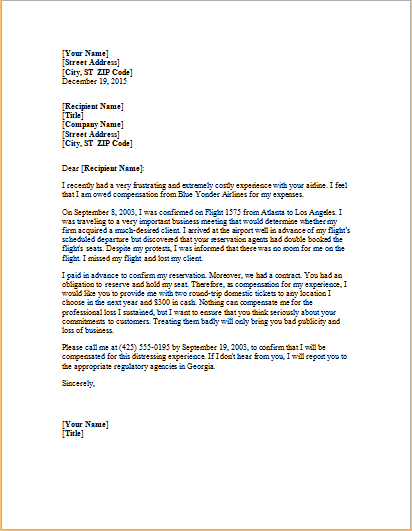 File: Word (.doc) 2007+ and iPad 
Size 26 Kb   | Download
File: OpenOffice (.odt) Writer [Writer]
Size 20 Kb   |  Download
License: ENERGY  (General Use)
(Distribution) by Kate Elizabeth(CEO)