Complaint Letter about Damaged Luggage
WARNING LETTERS
If your luggage is damaged during traveling then you can write a complaint letter about damaged luggage.
What Should Be Included In Complaint Letter?
When writing a complaint letter about damaged luggage then you should include the following things.
Describe your problem of damaged luggage and the solution of your problem which you want
Include the dates when your luggage was damaged and when you came to know about the problem of damaged luggage
Also, mention the action which you have already taken to solve your luggage problem and what you want now from them to resolve your problem
Mention your reasonable time period within which you need your problem to be solved
Don't forget to attach any document related to the luggage. It may include an invoice or receipt
Start writing your complaint letter with greeting such as Mr., Mrs., Madam, etc. you should explain your reason for writing a complaint letter and you can also express your dissatisfaction. Also, write about the relevant details about the problem and when the problem was started. You can also suggest your solution of your problem. Your tone should not be aggressive and should be polite because aggressive tone may annoy the reader. Don't use abusive language no matter how aggressive you are. Once you have finished writing your complaint letter you can close your letter writing yours sincerely. Do your signature on the complaint letter and also write your name beneath your signature.
The letter can be customized to use as COMPLAINT LETTER FOR LOST LUGGAGE
PREVIEW & DETAILS OF TEMPLATE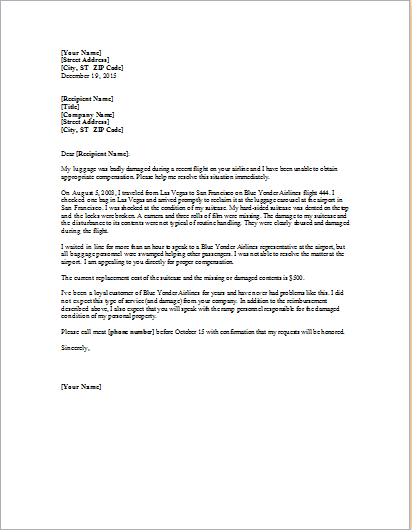 File: Word (.doc) 2007+ and iPad 
Size 26 Kb   | Download
File: OpenOffice (.odt) Writer [Writer]
Size 18 Kb   |  Download
License: ENERGY  (General Use)
(Distribution) by Kate Elizabeth(CEO)