Commercial Office Cleaning Checklist
Office Cleaning checklist
Commercial office cleaning is always a very difficult phase for the supervisors. Because the office cleaning starts at night or scheduled when the senior management is not present, it becomes very important for you to list down every crucial detail in order to make the office cleaning process as effective as possible. Usually, the professional office cleaners have their own way to deal with their work, but in order to achieve satisfactory results, you should have your own checklist for the office cleaning. The office cleaning checklist template designed in Excel is an amazing office tool which helps you arrange all your office cleaning tasks through a database in order to speed up the cleaning process effectively.
Some of the important tasks which should be included in a commercial office checklist are listed below:
Waste bin cleaning, vacuuming carpets and mats
Mop cleaning, surface cleaning for all office furniture such as chairs, desks, tables etc.
Application of disinfectants to prevent the growth of germs
Window cleaning, glass material cleaning
Walls, cabinets and ceilings cleaning,
Bathroom cleanups and replacing soaps, shampoos, hand-washes, and towels wherever necessary
Maintaining a proper elevator and staircases cleaning process
Ensuring an effective kitchen cleanup for keeping the place healthy where the employees meet for lunch
Flooring and tiles cleaning
These were some of the basic tasks related to any commercial office cleaning process. Add them to your office cleaning checklist to attain better results during your cleaning phase.
Preview and Details of Template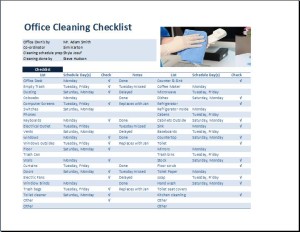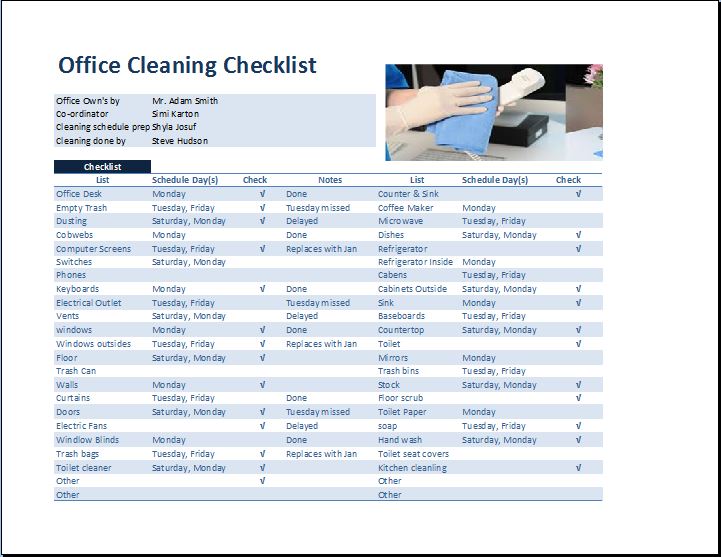 File:Excel (.xls) 2007+ and iPad
Size 32 Kb   |    Download
File: OpenOffice (.ods) Spreadsheet [Calc]
Size 27 Kb   |    Download
License: ENERGY   (Personal Use Only)
(Not for resale and distribution) by Kate Elizabeth(CEO)