Colorful Birthday Gift Certificate Template
Birthday Gift Certificate
One of the most commonly celebrated event and occasion of the world is a birthday. Whether you live in any part of the world, every individual likes to remember and celebrate his date of birth. It is a universal event that is celebrated by cutting of cakes and presentation of gifts to the one whose is being celebrated.
There are millions of gift options available to people that can be used for birthday parties. But it is very important to select a gift that will be special and will be appreciated by the recipient. You may have a large amount of money to spend on the gift, but that too cannot ensure that the gift will be something likable for the birthday boy or girl.
While selecting a gift for the person whose birthday is being celebrated it is important to have an insight into his likes and dislikes. Once you have analyzed this selection of a gift will be much easier. Being informed about the person will also help you to get something that is much needed and required by that person. It should be something that would really make him or her happy from the heart.
But because most people are very busy there is hardly any time to do all this. For this purpose, it is advised to go for a birthday gift certificate template. The template will provide the birthday person to get the gift of his or her own choice.
Preview and Details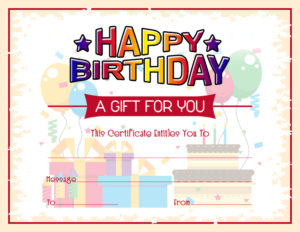 File:Word (.doc) 2007+ and iPad
Size 2.57 MB | Download
---
File:Word (.doc) 2007+ and iPad
Size 4.4 MB | Download  
---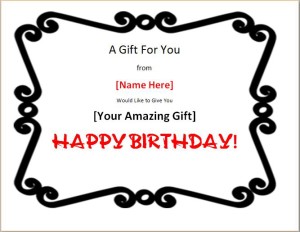 File:Word (.doc) 2007+ and iPad
Size 300 Kb   |    Download
File: OpenOffice (.odt) Writer [Writer]
Size 300 Kb   |    Download
License: ENERGY   (Personal Use Only)
(Not for resale and distribution) by Kate Elizabeth(CEO)