Circus Wonderland Flyer Template
Circus Wonderland Flyer
For many places, circuses have lost their importance but still, you will come across people who appreciate them and love watching them as well. A circus displays different kinds of talents and it is a fun to watch the event, regardless of any age difference; kids and adults and even old people love watching a circus.
When it comes to spreading the word about the happening of a circus, the managing authority looks up for great and eye catching ideas to create a flyer for it. Flyers are the cheapest mean of communicating with the public and letting them know about the event. It is a single sheet document which is used to advertise or promote an event, company or product. But what should a circus flyer be like? How can it be innovated to attract viewers in abundance?
A circus flyer should not be simple at all; it should be shimmering, colorful and vibrant since that is what a circus is all about. The features which can be added or must be added to a circus flyer, are as follows;
A variety of colors as much colors are added to a circus flyer the more vibrancy and fun it reflects.
The venue is a compulsion because, without it, the flyer is useless. Until the audience doesn't know where the event is, how will the crowd be directed towards it?
Two or more features about what the circus will have. Try to enlist the best performances which you think are new and innovative enough to drag people to your circus show.
Preview and Details of Template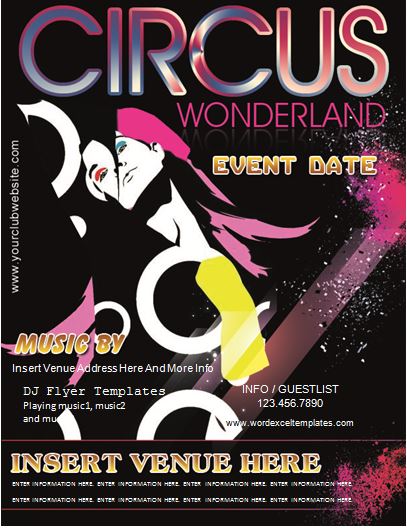 File:Word (.doc) 2007+ and iPad
Size 875 Kb   |   Download
File: OpenOffice (.odt) Writer [Writer]
Size 853 Kb   |   Download
License: ENERGY   (Personal Use Only)
(Not for resale and distribution) by Kate Elizabeth(CEO)