Chocolate Fever Night Club Flyer
Night Club Flyers
When it comes to the chocolate fever nightclub, all the club lovers have to dive in it. A person who loves night clubs and has a fever for them, can't let go of any event of it. However, the people who aren't much interested in night clubs, surely demand an appealing factor for making them dragged to the place. Therefore, the invitation, rather flyer of a night club must be made so attractive that a person can't stop himself from attending it.
Themes and Ideas for Chocolate Fever Night Club Flyer
When it comes to a night club, something dark and glimmering comes to mind for utilizing in the theme of its flyer. But when you think specifically for a "chocolate" fever night club flyer, then you need to think a little different than the rest of the night clubs.
Chocolate usually strikes a brown color in one's mind and that should be the main idea or theme for a chocolate fever nightclub flyer. The design should be played around the chocolate and club; making the best mixture or combination out of it. A person can add dripping chocolate to it or maybe a bar of chocolate with dancing lights in it. The most important things to be mentioned in the flyer are some of the "special" features. Maybe you are offering free drinks to everyone and this acts a huge attractive point for everyone. Above all, the venue is the major feature that has to be mentioned and cannot be neglected at any cost.
Preview and Details of Template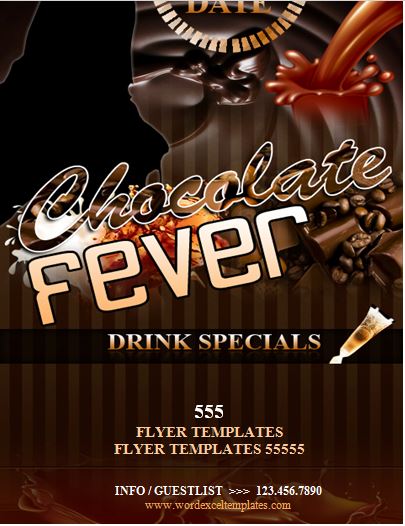 File:Word (.doc) 2007+ and iPad
Size 380 Kb   |  Download
File: OpenOffice (.odt) Writer [Writer]
Size 357 Kb   |   Download
License: ENERGY   (Personal Use Only)
(Not for resale and distribution) by Kate Elizabeth(CEO)