Child Illness & Information Record Sheet
With the passing time, it is imperative for every parent and daycare center to have a child illness log as it is very much necessary to keep a track of your child's health and take a note of any health issues they might be having. This is necessary because you might not know that your child can be ill for a long time because of a minor symptom at the beginning. Keeping a record of your child's health will alert you if a symptom is occurring more than often. It will allow you to take necessary action and prevent the illness from getting bigger and worse.
For daycare center even, the child illness log holds a lot of importance as they are able to record the health static of the child and able to tell the parents if the child has been falling sick frequently. It allows the parents to take necessary action before it's too late.
The basic components of the child illness log are as follows:
Date
Name
Age/Classroom
Child's name
Symptoms: this is the most important component as here the symptoms are recorded and if the symptom occurs continuously, then it is to be treated properly.
Symptoms began: this records the date and time the symptom started so that you can have a track of it.
Medication taken
These are the basic components of the child illness record sheet, more components can be added too. You can also download the child illness log online.
Preview and Details of Template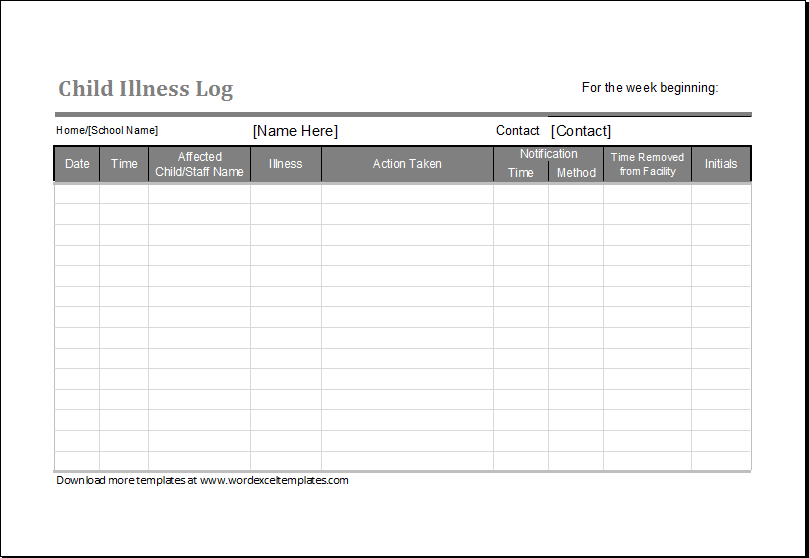 File: Excel (.xls) 2007+ and iPad 
Size 31 Kb   | Download 
File: OpenOffice (.ods) Calc [Cal]
Size 14 Kb   |  Download
License: ENERGY  (General Use)
(Distribution) by Kate Elizabeth(CEO)