Child Growth Record Table with Chart
Child Brought Up & Growth Charts
Children grow at a speeding pace. Not so long ago they were babies in your arms and now they're off taking their first steps. Documenting each and everything is parental bliss and brings back a lot of memories for many years to come. But apart from documenting the growth of your child for personal reasons, parents need to monitor the growth of their children for their child's health sake as well. It is well known that a child up to the age of 7 needs to be monitored closely to know if he/she is right on track. This monitoring can be documented in the form of a Child Growth Chart.
A child growth chart is a chart, that depicts how well if your baby growing at specific ages. The chart needs to have an x-axis and a y-axis that shows the age in weeks and the weight of the child in kg or the height of the child respectively.
It is up to you for what time period do you want to monitor your child's growth rate. Usually, the chart is made on a yearly basis and is advised that all parents keep up with one for the first year of their baby. Make two growth charts where one is for weight and one is for height.
Make sure that the growth charts are shown to the baby's doctor on each visit. The pediatrician will guide you more regarding the growth and may recommend you specific diets to help your child all the way.
Preview and Details of Template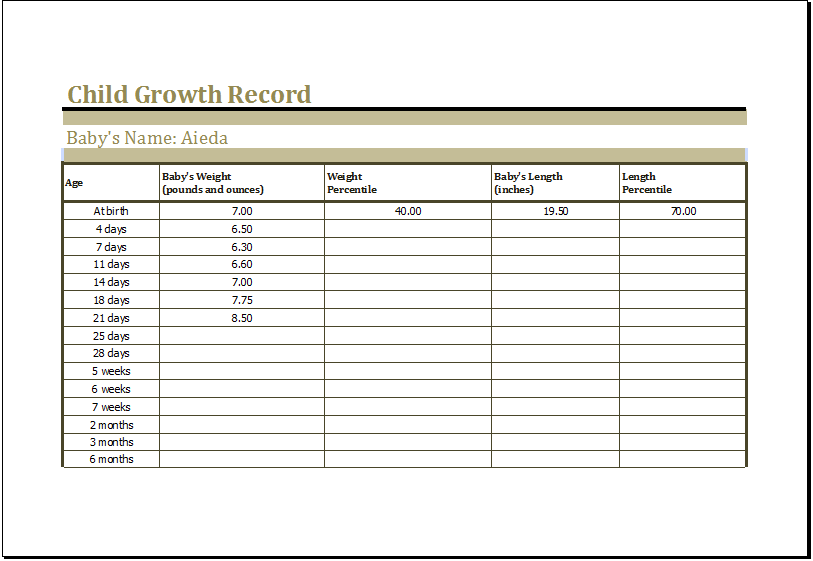 File: Excel (.xls) 2007+ and iPad 
Size 41 Kb   |  Download
File: OpenOffice (.odt) Calc [cal]
Size 24 Kb   |  Download
License: ( General Use)
(distribution) by Kate Elizabeth(CEO)