Character Reference Letter
When you write a character reference letter, know that you're doing a work of great responsibility because character reference letters are written to show your approval for someone's character and credibility. They are a proof that you know the person directly and you consider him/he a good soul. This is why while writing a character reference letter you have to be fully honest.
Character reference letters are written for different purposes. For example; a character reference letter can be written for a student to get him admission in college, for someone's job, as a legal document, for scholarship purposes etc. These letters help the readers know about that character and general behavior of the person who they're employing or giving admission. In the case of legal hearings, these letters are used to vow in the favor of a criminal to protect him. In courts, character reference letters prove that the person who has committed the crime is not a habitual criminal and is otherwise a good man.
In order to write a character reference letter, keep these guidelines;
Use business letter format for writing character reference letter
Character reference letters consist of three paragraphs. Make the first paragraph of letter introductory, telling about yourself so that the reader may know you.
In the second paragraph, tell your expected reader about the person you are writing the letter for. Keep the letter positive, precise and concise.
In the last paragraph, conclude your letter by requesting the reader to consider your letter.
It is important to note that you should only write character reference letters for those who you personally know because writing letters for people who you don't know is unethical as well as a dishonest act. So, don't write such kind of lame character reference letters, but when you actually write a genuine letter, make sure it is written in the best of the way. Here on our website, you can find an example template of character reference letter. It will help you understand the formatting and styling of reference letters.
Preview and Details of Template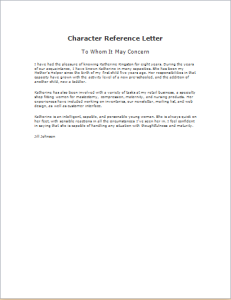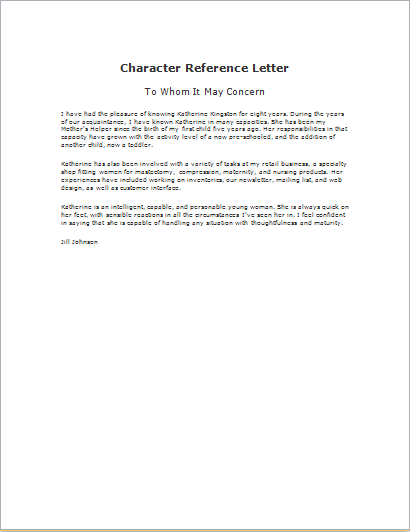 File: Word (.doc) 2007+ and iPad 
Size 31 Kb   | Download
File: OpenOffice (.odt) Writer [Writer]
Size 15 Kb   | Download
License: ENERGY  (General Use)
(Distribution) by Kate Elizabeth(CEO)