Cash Money Event Flyer Template
Why need a Flyer for Cash Money Event?
A flyer is a piece of paper which is used for advertising or promoting an event or happening or specific products. It is utilized by the companies who aim at spreading the word about their product or event or company to a larger scale. This is why a cash money event requires a flyer.
A cash money event demands a huge gathering and the best way to get it is by spreading out a flyer about it. How can a cash money event gather cash, if it doesn't have people in it? Cash money event is held on larger than life scales and innumerable people are gathered for it. This is the major reason why this event requires a flyer.
Cheapest Mean of Communication
When a person is organizing such a large scale event, he/she have to look in their pockets as well, to ensure that they don't run out of money. Moreover, they need to stay economical, as much as they can. This is where flyers act as the helping hand for them. Flyers are well known for being the cheapest mode of communication between a manager of the event and the public. How much can a single piece of paper demand from you? You need to make sure that you make the "single papered" flyer as attractive as you can, playing around with the theme and idea relating to the event so that a huge number of people are appealed towards it.
Preview and Details of Template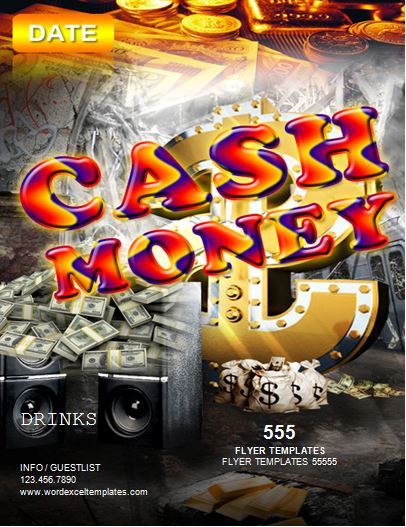 File:Word (.doc) 2007+ and iPad
Size 534 Kb   |   Download
File: OpenOffice (.odt) Writer [Writer]
Size 513 Kb   |   Download
License: ENERGY   (Personal Use Only)
(Not for resale and distribution) by Kate Elizabeth(CEO)