Carnivals
Carnival is a combination of festivals which is enclosed with loads of fun and entertainment. It is likely to include a wide range of various games, dances, music and other sets of activities. Carnivals are usually celebrated at the end or beginning of a weather or season; held only once or twice a year in every country.
Why is a Carnival Flyer Important?
Carnivals only portray joy and happiness and its aim is to attract the innumerable amount of people to itself. Therefore, for letting a lot of people know about the carnival, a flyer is created. This type of event is usually held in open and large parks, schools, colleges or other well-known institutions or organizations.
Carnival Flyer
A carnival allows the people to enjoy a bunch of activities to their fullest. However, a Carnival flyer should encompass all the important information relating the carnival that will be attracting the public towards it, i.e. mention the best activities and whereabouts of the festival.
A carnival flyer can also be made into a simple and elegant carnival invitation. Flyers usually reflect a kind of invitation but they aren't invitations in actual. The biggest advantage of giving out Carnival flyers is that a huge number of people turn out at the event and it is one of the cheapest methods through which public can be informed of a festival or event. This saves the money for the carnival manager and he can add up more features to his event; giving much more fun to the public.
Preview and Details of Template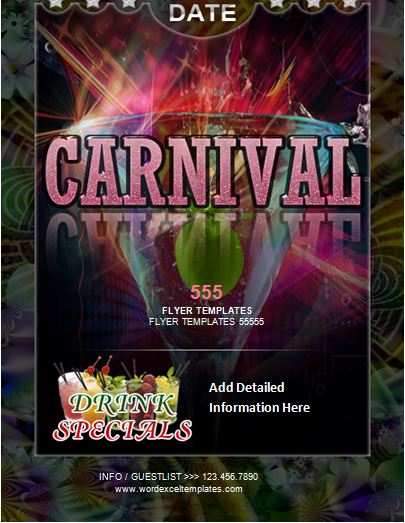 File:Word (.doc) 2007+ and iPad
Size 464 Kb   |   Download
File: OpenOffice (.odt) Writer [Writer]
Size 438 Kb   |   Download
License: ENERGY   (Personal Use Only)
(Not for resale and distribution) by Kate Elizabeth(CEO)