Care Center Services  & Diaper Charts
Care centers are places where the child gets to take care by nurses and nannies that are not the child's legal guardians. The care center which is more often known as the day care is where care for the child is provided during the day. Many parents prefer leaving their children in the care of a day care center due to their professional lives or due to other commitments.
Care centers take care of the child in every manner. They feed them, clean them and take care of every little thing. One thing that day care centers do is to keep track of how many diaper changes has a child gone through and if all this pooping is normal or not.
Every child has a separate diaper chart where his name, age, his roll number along with his section is mentioned. Next columns are present that help in the whole documentation process. The first column usually refers to the time of the diaper change and by who was the diaper changed by whom and the second may be for any notes that the diaper changer may have.
Keeping a diaper chart helps the child to be potty trained and keeps track of how many diaper changes has the child gone through. Knowing the number of diaper changes helps the care providers to plan what tactics or strategies are to be used to further facilitate the potty training. Make sure that everything is documented properly and in a neat manner.
Preview and Details of Template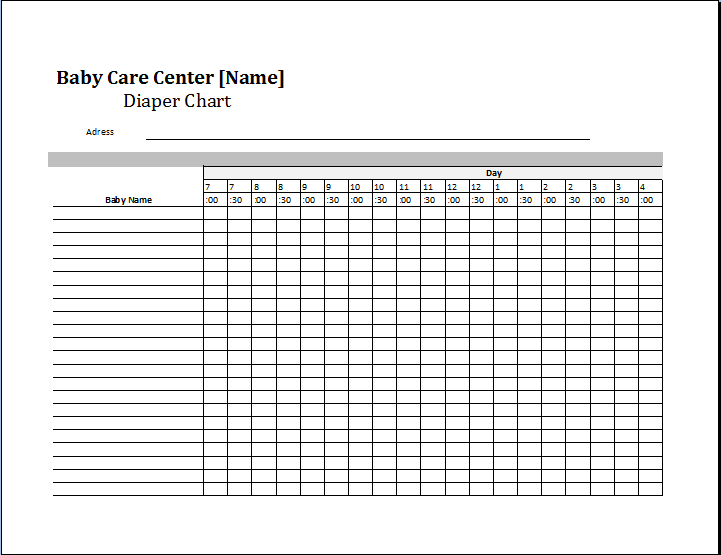 File: Excel (.xls) 2007+ and iPad 
Size 25 Kb   |  Download
File: OpenOffice (.odt) Calc [Calc]
Size – Kb  |   uploading soon
License: ENERGY  (Personal Use Only)
(Not for resale & distribution) by Kate Elizabeth(CEO)