Flyers are one of the most important parts of any business since they serve as the best tool to enhance the sale of the business. Car for sale flyers is used to advertise the car. These flyers are used to publicize the business.
When you have a serious aim to sell the car, the use of flyers is the most practical way to do this. The basic objective of this flyer is to grab the attention of the people in that car. The Flyers are always the best strategy of a businessman when he wants to boost his sale. It is the best source of publicity of the car.
When to use the car for sale flyer?
The flyer is used
When a company has designed a new car and wants it to be sold out
When someone wants to sell the car which is in his use
Main elements of the car flyer: 
The main details about the car which are added in the flyer are:
Picture of the car
Colour
Condition
Attributes and Qualities
Model and make
Year of manufacturing
Mileage
Engine number
Number of years the car has been used (if selling a used car)
If you don't know how to design a flyer to increase the sale of the car, here is a template which provides a well-designed and perfect flyer for your car business.
The flyer available on this website has been prepared after considering the choice and requirements of the customer. You can get the best flyer by using these template.
The design of the flyer matters a lot. A lot of efforts have been put in preparing a beautiful and attractive car flyer for your business. The color choices and designs are so attractive that they can easily capture the mind of the customer.
This template is customizable which provides you the complete ease with which you can bring changes into it. It is a readymade template which requires you to add the details specific to your car and print it.
Preview & Details of Templates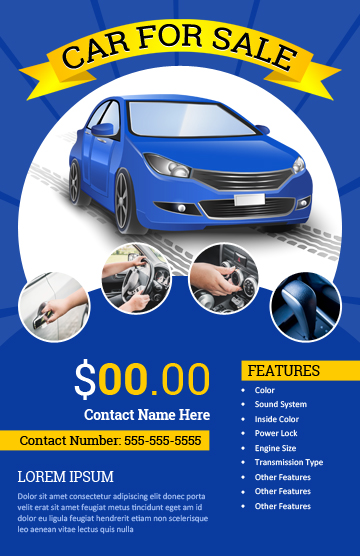 CAR for SALE Flyer Template -1
File: Word (.doc) 2003+ and iPad 
Size 762 Kb | Download
Special Design: Dimensions 11″ by 17″
License: ENERGY [Personal Use Only]
---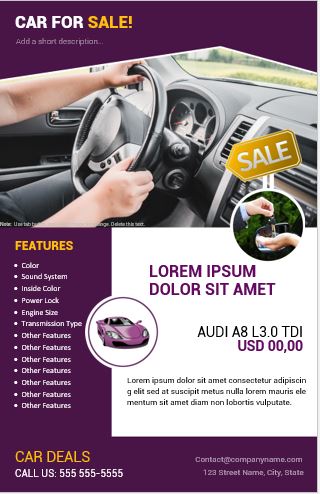 CAR for SALE Flyer Template -1
File: Word (.doc) 2003+ and iPad 
Size 767 Kb | Download
Special Design: Dimensions 11″ by 17″
License: ENERGY [Personal Use Only]