Club Flyers
Clubs usually require a loud and vibrant flyer as to reflect the club life perfectly. They demand a huge number of people to be appealed towards their club so that they might gain attention and more and more fame; as much as is possible.
When someone visits your club, they obviously find something good and interesting which appeals them towards it; leaving all the rest. This is where your flyer plays an essential role in diverting traffic from other clubs to yours. When you decide upon making a flyer for your club or any event of your club, you need to keep in mind that it must be different than the usual club flyers.
Club Flyer Template
With a line of clubs available, almost all of them have the same lighting and shining flyers to offer people. Providing something different to the club lovers will help you gain fame in a quick way. It isn't easy though but you can get several ideas. Nowadays, online websites are also offering a wide range of flyers and the themes and ideas that you can play with. You can go ahead with this option and design your own flyer yourself, by winding up your mind around the many ideas available.
You need to mention the venue of your club and what kind of event are you people offering to the public. What will the event have? Moreover, the features mentioned should be the real ones; don't mention anything you don't intend to add to your event/club.
Preview and Details of Template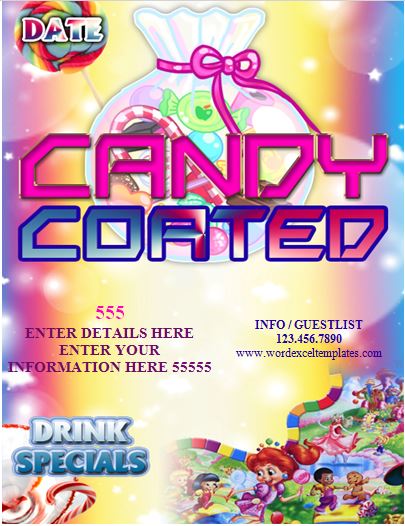 File:Word (.doc) 2007+ and iPad
Size 453 Kb   |   Download
File: OpenOffice (.odt) Writer [Writer]
Size 415 Kb   |   Download
License: ENERGY   (Personal Use Only)
(Not for resale and distribution) by Kate Elizabeth(CEO)