Camping Necessities Checklist Template
Trip Necessities Checklist
Camping trips are highly adventurous events in the life of families. It is important for anyone to be prepared in advance for all the thrilling activities before moving out of the house. Not maintaining an account on your camping supplies can ruin the fun of your exciting trip. Having a camping necessities checklist can help you ease off the burden and ensure a smooth and safe camping experience.
About Template
Here we have an amazing tool for campers in the form of camping necessities checklist template which helps in organizing all your small and large camping stuff in order to make your trip a one of its kind experience. Through this amazing template, you get to arrange all your camping necessities using a single database, so that you can easily check what kind of supplies you need during your amazing trips. Some of the most important camping necessities which should be made part of your trip necessities checklist include:
Tents, campers, mattresses, and blankets to create a perfect shelter for outdoors.
Towels, pillows, sleeping bags and hot pads also ensure a safe and comfortable camping experience for your family.
Second important set of goods for camping includes coffee pots, aluminum foils, can openers, utensils, portable gas stove, knife, firewood, and lighters.
The third set includes first aid kits, entertainment stuff, cleaning material, extra clothing and other similar necessities to ensure a comfortable and joyful camping experience.
Preview and Details of Template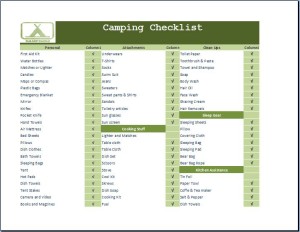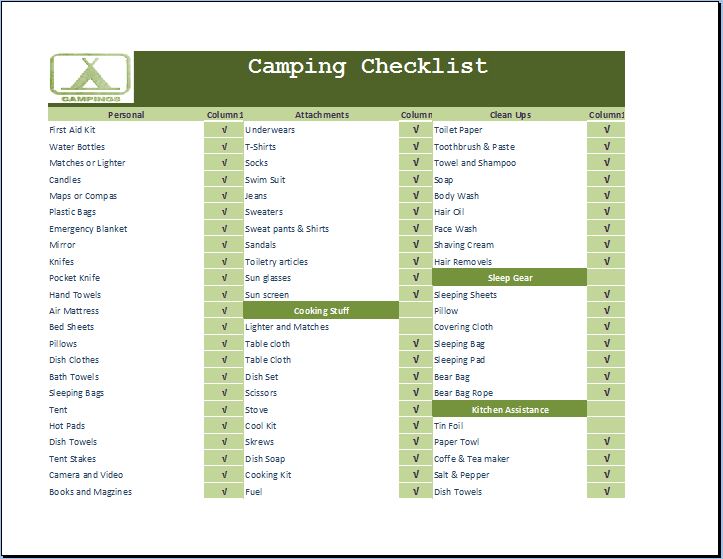 File:Excel (.xls) 2007+ and iPad
Size 51 Kb   |    Download
File: OpenOffice (.ods) Spreadsheet [Calc]
Size 39 Kb   |    Download
License: ENERGY   (Personal Use Only)
(Not for resale and distribution) by Kate Elizabeth(CEO)