Business Share Certificate Template
Posted by Kate | On

11 June,2015

| In Certificates
Share Certificate
When it comes to a matter of ownership in a company share certificate is the best choice to use as an award certificate. A certificate of share or share certificate serves as a document that contains necessary information about the shareholder. The information could be particular information related to the shareholder, about the company, number of shares and price of each share etc. A share certificate template is a simple document in the form of designed certificate which companies can use as company share certificate. The given template can also be used as a stock certificate or stock share certificate.
About Template
The sample free share certificate template is designed and prepared by professionals. The template is designed using Microsoft Word. It has all features to use it in its original format. However, it is equipped with all options to edit or customize it accordingly as per one's requirement.
The share certificate template has maximum facilitating features to use it. To use and download certificate shares no special techniques or software is required. A user can just click on the link "Click here to download" for completely free download of the template. No special registration like many other website's demands is needed. The options are very flexible. A preview has been added also to facilitate user to have a quick look at its appearance and then a link is given to download the template.
The editing options of the template are very simple. To edit the text simply open the template using Microsoft Word or OpenOffice Writer. Select the text you want to edit and then delete it to replace with a new required text. Text position can also be changed. For this just select and drag the text from its original position to required one. Furthermore, a user can give more styles to text by selecting different fonts of Microsoft Word. The user can also make use of clip art option to change the look of text. Headings and borders can also be changed from given images.
Preview and Details of Template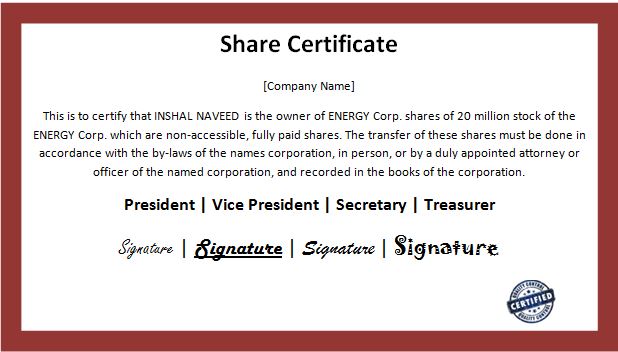 File:Word (.doc) 2007+ and iPad
Size 38 Kb   |   Download
File: OpenOffice (.odt) Writer [Writer]
Size 30 Kb   |   Download
License: ENERGY   (Personal Use Only)
(Not for resale and distribution) by Kate Elizabeth(CEO)
About Author
Kate
Kate Elizabeth is a professional writer. Writing and producing useful contents that are helpful for the people in doing different tasks is her hobby.