Black and Red Party Flyer
Party Flyers
A flyer is a simple bill, circular or a leaflet like a document that is one type of print advertisement used in business marketing. To allow wide distribution among potential and existing customers. There are various mediums of distributing the flyer all of which are cheap and convenient. Flyers may not necessarily be used for company goals and objectives they can also be employed by individuals for their private causes. They can be used to promote any social event or general community information among members as well.
About Template
One example of a good flyer available on the internet is the Black and Red Party flyer. These days parties on both individuals as well as corporate level are arranged with great planning and enthusiasm. To make a party successful it has to offer something new and entertaining of the participants. For this reason, theme parties with color codes are offer organized. The black and red party flyer is ideal for this type of theme party. It will provide basic information about the party like date, time of guest arrival, promotional attraction, entry conditions and much more.
The black and red party flyer is an inexpensive way to promote the party. They can be produced using the computer at home or office and the designs can be chosen from the several designs that are available on the internet. You can be creative and innovative by yourself and add a modification to the standard templates and customize according to your own preferences.
Preview and Details of Template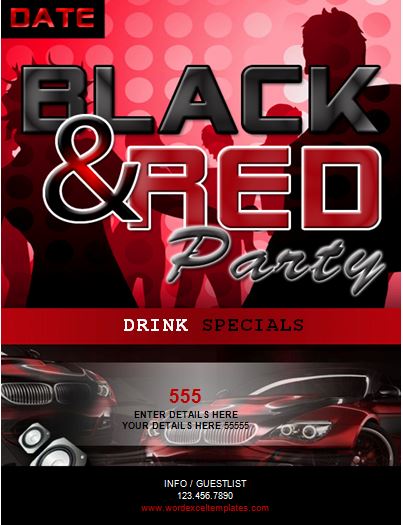 File:Word (.doc) 2007+ and iPad
Size 320 Kb   |   Download
File: OpenOffice (.odt) Writer [Writer]
Size 293 Kb   |   Download
License: ENERGY   (Personal Use Only)
(Not for resale and distribution) by Kate Elizabeth(CEO)