BID ACCEPTANCE LETTER
A bid acceptance letter is a source of communication between a company and a vendor, an independent contractor or freelance worker. The letter figures the services or products the freelancer or vendor is able to deliver and what will be the cost of the services or products delivered by them. The letter also includes a particular time frame or a date for completion.
Before drafting bid letters, the company's requirements should be understood completely. The chances of successful bids are increased when a proposal is tailored to the specific request. It is essential for the bidder to meet the deadlines and to handle all the aspects of the given assignment. If there is no deadline in the proposal request then the bidder should set a specific delivery date.
A bid acceptance letter contains the firm name, the delivery date and the product or service requested, the due date of the bid proposal, the formal statement of a request for the bid and the method of submission. An important part of bid letter is marketing and is referred to as bid proposal.
In bid acceptance letter everything starts from the left-hand side. The name and address of the receiver are written down and the date is written after leaving some space and after that, the name and the address are written of the sender. Our website offers a readymade format of bid acceptance letter.
WHERE IS IT USED?
It is used to request bids on any upcoming projects from different contractors. Acceptance of bid letter can be used to do the jobs.
Preview and Details of Template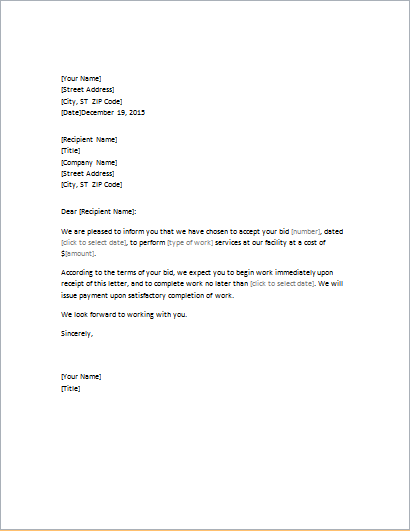 File: Word (.doc) 2007+ and iPad 
Size 24 Kb   | Download
File: OpenOffice (.ods) Writer [Writer]
Size 16 Kb   |  Download
License: ENERGY  (General Use)
(Distribution) by Kate Elizabeth(CEO)