Beach Barbecue BBQ Party Flyer
Summers and Beach BBQ Party!
Are you all set to enjoy this summer with your friends, hitting the beach and the heat? Well, then you must be planning a BBQ party at the beach as well. BBQ party is the perfect combination to make during summers. A beach BBQ Party is a big gathering and more the people, the more the fun will be.
I

deas for a Beach BBQ Party Flyer
If you have done all and are just waiting to plan out, how you want your flyer to be, then here you are sure to get some simple yet amazing ideas!
A Beach BBQ Party is obviously cooking out and this makes it more attractive and fun for the young generation. The word "cookout" on your flyer looks incredibly attractive and lights up an excitement for the invitees.
Summer cookout theme is perfect for a beach BBQ party. Such parties are done during summers, so this flyer makes sense completely and sounds appealing also. Summer and Cookout sound the perfect combination ever.
BBQ Party Flyer (Free food and drinks idea):
Just add "free food and drinks" to your flyer and you will have the world there! You can add a big bottle of ketchup or champagne (or anything else you are planning to set up in the menu), as the centered theme of the flyer.
This one is perfect for your beach party; you can add a lot to this flyer a volleyball, a chargrill, shades, bikini, and sandals etc.
Preview and Details of Template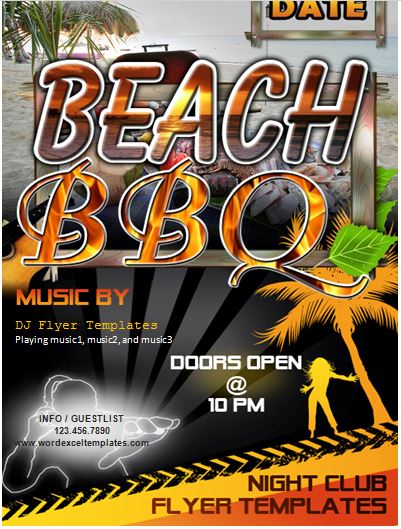 File:Word (.doc) 2007+ and iPad
Size 507 Kb   |   Download
File: OpenOffice (.odt) Writer [Writer]
Size 482 Kb   |   Download
License: ENERGY   (Personal Use Only)
(Not for resale and distribution) by Kate Elizabeth(CEO)