Barbecue [BBQ] Party Invitation Card
BBQ Parties & Formal Invitations
Barbecues are a great and fun way to spend time with your families and your friends. They get your closed ones together and you can enjoy a good and fulfilling meal that you have prepared in the outdoors. One doesn't need a special occasion to hold and host a barbecue. You can always look up a good day and invite everyone over!
To add a bit of personal touch, you can send out invites to your friends and families to your barbecue. You can make the invitation in the colors of reds and black to give a fiery theme. You can even have a background picture of coals, fire or a grill to make it look even more authentic and at the same time make it easier for the guest to understand the theme.
You can add cheesy taglines as part of your invite to make the invitation a bit more warm and friendly. Make sure that you mention the address and the time. If you are hosting a barbecue at another venue then add the address, but if you're hosting it in your backyard then all you need to mention is the venue.
Also, add the full address if you are inviting people who haven't been to your house before. If you want, you can always add details about what you'll be serving so if people who are allergic or are uncomfortable with the choice of food can call you up and say so! Make sure the invitation is inviting and warm!
Preview and Details of Template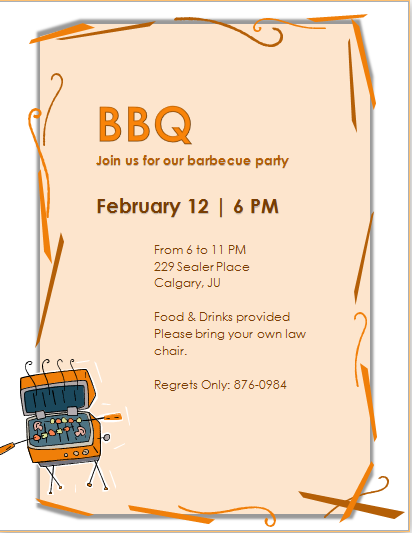 File: Word (.doc) 2007+ and iPad 
Size 629 Kb   | Download
License: ( General Use)
(distribution) by Kate Elizabeth(CEO)