Baby Food Reaction & Allergy Log
Baby Food Record, Reaction & Logs
Babies are super sturdy human beings that have the capability to endure a lot of things. They are made specially that way. As your child is growing, you feed him/her a number of things to facilitate growth. Since you're feeding your baby food that has properties and structure unlike what you have been feeding him/her in the past, you need to be extra careful to see if your baby has a reaction against the food or is allergic to it.
To document whether or not your baby is allergic or has a food reaction, it is vital that parents keep a Baby food reaction and allergy log. This log should be used as a template every time you feed your child something new. For example, if you're trying out feeding you child a banana for the first time, keep a log for the day. Keep monitoring your baby for a good 24 hours and note down what you see. This may include the baby's initial reaction to whether or not you see a rash or allergy coming. Feed the same thing the next day as well and keep a log.
This log should be divided into three columns, the first one should mention the date and the exact time you fed your baby, the next column should specify what you have fed your baby and the last column should mention if you saw a reaction or an allergic reaction.
This log will help you for many years to come, to note down whether or not your child is allergic to specific foods and ingredients.
Preview and Details of Template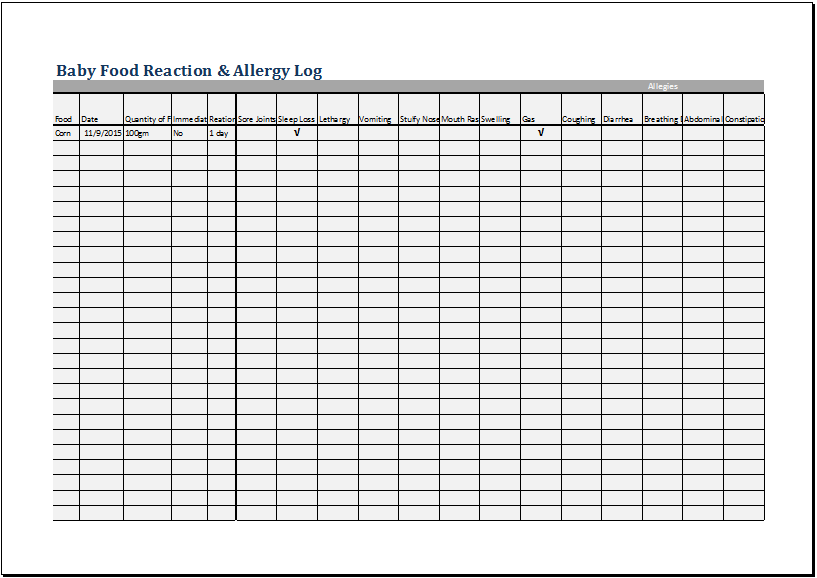 File: Word (.doc) 2007+ and iPad 
Size 31 Kb   |  Download
File: OpenOffice (.odt) Writer [Writer]
Size 14 Kb   |   Download
License: ENERGY  (Personal Use Only)
(Not for resale & distribution) by Kate Elizabeth(CEO)